Various certificates can be requested by an issuance service at convenience stores, by postal mails or by visiting our office as detailed as follows.
Notice
Regarding issuing certificates during the Winter Holidays

For issuing certificates will not be in service during the following period.
Some certificates issuing might take longer than usual, please make a request with time to spare. The process restarted after Jan 4, 2024.
Convenience Store Issuance service also will not be in service.
However, the Certificate Issuing Machines could be used until Dec 28th.
Thank you for your understanding.


Period: December 29 (Fri),2023 – January 3 (Wed), 2024




Convenience Store Issuance Service (Japanese only)
Kyoto University has started a convenience store issuance service; however, please note that the available certificates through this service and the instructions (on the website and issuance machines) are in Japanese only. Please check the details and apply for the certificates from [here]
For available certificate types and potential users, refer to this document [here]

An issuance service at the convenience store requires a fee.



Postal Mail
Get a request form from here [Request Form (PDF)], print it out, and fill out the necessary information.
Enclose the filled request form, a self-addressed stamped envelope (SASE), and a had copy of your ID in an envelope, and send them to the Office of Student Affairs, Kyoto University Graduate School of Medicine. Please write [Request for Certificate] in red on the front surface of the sending envelope.
Make sure that you affix adequate Japanese postage stamps for the weight of the requested number of certificates on the SASE (refer to the table below).
Note: if you request a certificate from overseas, an international reply coupon (IRC) may be used instead of Japanese postage stamps (IRC is equivalent to approximately a 160-yen Japanese stamp). The information is available on the websites below.
After receiving a request form, we will issue standard Japanese certificates in 2 days and English certificates in about a week (excluding national holidays and university closing days).
If IRCs are not available in your country, you may ask someone in Japan to make the request on your behalf. In that case, please send your signed consent letter that describes the name of your proxy along with other documents.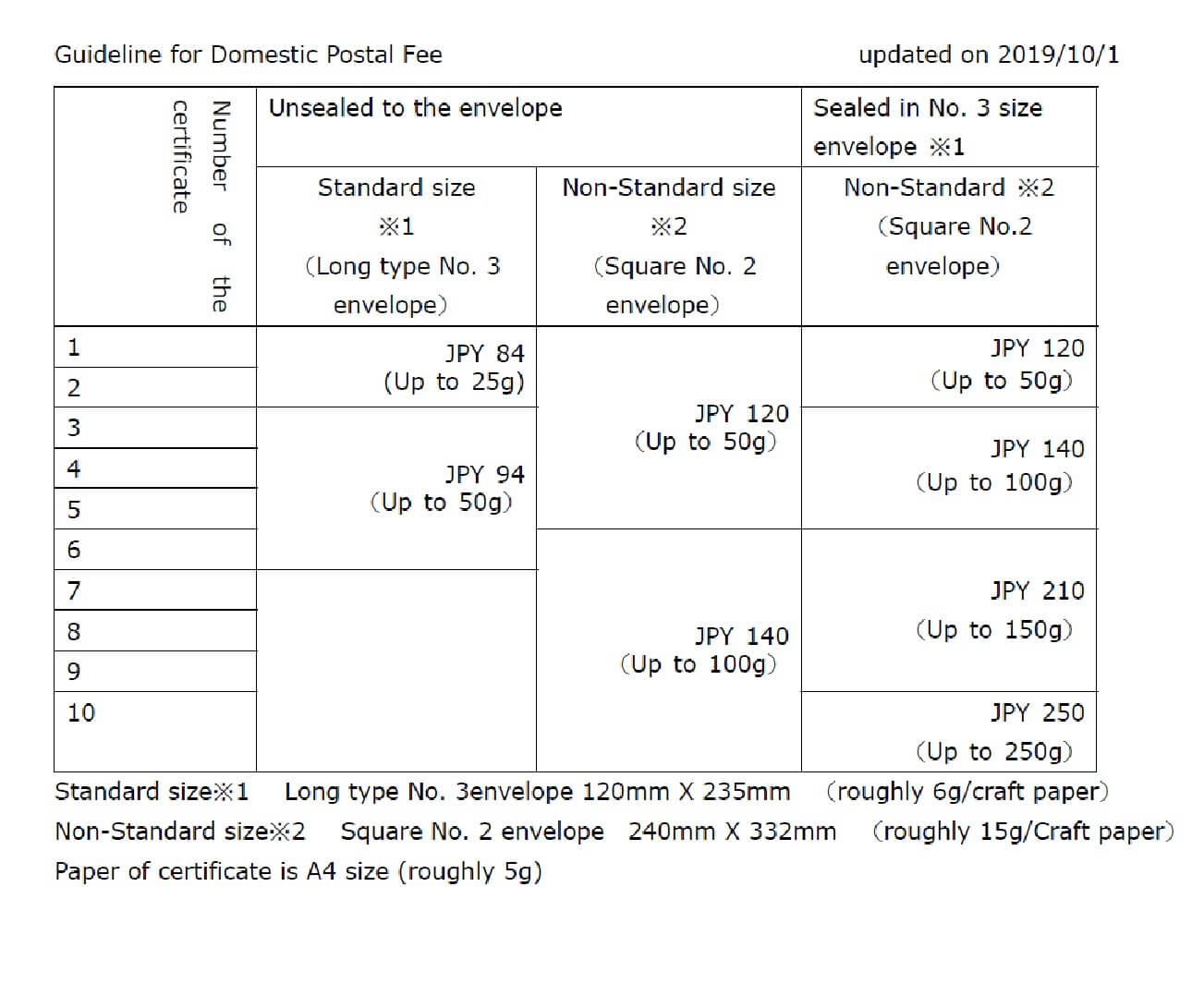 The table above is to estimate the required postage stamps on your SASE when using JAS standard size craft envelope affixed with 1 or 2 stamps. If you are to use a different envelope or to put many stamps on it, please check the price at a post office before sending. A letter of certificate/sheet weights about 5 grams.
If you would like your certificate "sealed into the envelope", the estimate on the table above is for one sheet in one envelope (folded the bottom twice into the long size envelope and sealed with dean's signature). The weight of a sealed English certificate using western No.4 size envelope will be heavier than that of a sealed Japanese certificate.
Express mail: Add JPY 260 (up to 250g) to the normal postage.
Registered mail: Add JPY 320 (up to 250g) to the normal postage.
In case of the shortage of postage, we will not send the certificates in principle. Please make sure to calculate the necessary postage before sending.
In Person
You will be given a request form to fill in and asked to submit it at the reception counter in the Office of Student Affairs Graduate School of Medicine.
Certificates cannot be issued on the same day. Regular certificates in Japanese will be issued in 2 days (excluding holidays), and regular certificates in English will be issued in a week (excluding holidays). You can either come back to pick them up or ask for mail delivery.
Please bring your ID to receive the certificates when you come back to the office. If you plan to use mail delivery, please bring a self-addressed stamped envelope (SASE) with adequate postage stamps when you submit the request form.
If you ask someone to come to the office for the pick up on behalf of you due to inevitable reasons, please let the person bring his/her ID along with the letter of proxy with your signature.



Notification
We cannot accept the request by telephone, FAX or Email.
There is no handing fee charged for issuing the certificate (excluding the convenience store issuance service).
Current Students (both regular and non-regular students) can issue the certificates using

Certificate Issuing Machines.

A machine is located on the 1st floor, Building C on the Faculty of Medicine campus. To operate the machine, your student ID card and ECS-ID & Password are required.
Certificate Issuing Machines
Service Hours: Monday to Friday 8:30 – 18:00
List of Certificates available from Issuing Machine
[Regular Student]
Certificate of enrollment (Japanese/English)
Academic transcript (Japanese)
Certificate of expected graduation (Japanese only) *only for the final-year student.
Certificate of expected completion (Japanese only )*only for the final year of master's program/professional degree program student.
JR Student Discount/Gakuwarisho (Japanese only)
Health Result Certificate (Japanese only)
[Non-Regular Student]
Certificate of Current Enrollment (Japanese and English)
Health Result Certificate (Japanese only)
If the certificate has to be sealed within an envelope, please bring the printed certificates and ask for the seal at the office.



Inquiries & Send a Request to:
The Office of Student Affairs, Graduate School of Medicine, Kyoto University
Address: Yoshida Konoe-cho, Sakyo-ku, Kyoto 606-8501
E-mail :060kyoumu(at) mail2.adm.kyoto-u.ac.jp