Industry-Academia Collaboration Courses
Alliance Laboratory for Advanced Medical Research (Alliance Station)
-Collaboration Framework for Drug Discovery Research with Astellas ―
There are still many unmet medical needs in the world including those of intractable diseases and rare diseases. Due to their complexity and rarity, mechanisms of these diseases are more difficult to be clarified, and drug discovery for these diseases requires an understanding of disease pathologies in humans. Thus, researches using blood and other clinical samples to identify molecules and cells critically associated with patients' diseases, and those determining patient stratification are being highly demanded. In order to exploit findings of these studies and deliver innovative drugs to patients as soon as possible, efficient and in-depth research collaborations between academia and pharmaceutical company are needed in situations close to the clinical setting and diseases.
To further accelerate drug discovery research through evolution of the open innovation system of the AK Project*, where, clinical and basic research of the university and drug discovery research of the company are closely linked in a timely manner, Kyoto University and Astellas established Alliance Station (A-Station), a new open innovation scheme at Kyoto University, and the Alliance Laboratory for Advanced Medical Research as a framework for the implementation of its activities. A-Station is a new platform for collaboration between industry and academia and under this scheme, Kyoto University and Astellas will conduct joint research projects in all therapeutic areas in a prompt and flexible manner. Director: Shuh Narumiya (Professor, Graduate school of Medicine)
Industrial Partner: Astellas Pharma Inc.* AK Project: Collaborative research conducted by Kyoto University and Astellas from July 2007 to March 2017 in "Center for Innovation in Immunoregulative Technologies and Therapeutics" as a "Creation of Innovation Centers for Advanced Interdisciplinary Research Areas Program" funded by the the Ministry of Education, Culture, Sports, Science and Technology.
Department of Drug Discovery for Lung Diseases
In the era of an aging society, lung diseases such as pulmonary fibrosis, lung cancer, COPD, bronchial asthma and pneumonia have an increasing impact on healthy life expectancy. Although more than two trillion yen is spent for lung diseases each year in Japan, the therapeutic agents for lung diseases are still limited. We think that one of the reasons is the complexity of human lung structure, consisting of various cells and matrices forming numerous tracheal branches and >300 million alveoli with elaborate network of blood vessels. However, the recent progress in human lung cell biology has made it possible to initiate this project of drug discovery for refractory lung diseases under the collaboration of academic and industrial researchers in Kyoto University.
Department of Advanced Medicine for Respiratory Failure
Respiratory failure is caused by various conditions, including the impairment of gas exchange due to lung injury, pump failure of respiratory muscles, and abnormal ventilatory control. Respiratory failure is an important disease condition, because it can impair healthy life expectancy. In addition to drugs, respiratory rehabilitation, and surgeries such as lung transplantation, chronic respiratory failure treatment includes oxygen therapy and noninvasive ventilation (NIV).
Home health care, including home oxygen therapy (HOT), is an important part of chronic respiratory failure treatment. The number of patients on HOT has increased steadily to 140,000 in 2014, and the primary users are elderly patients with an average age >70 years. This trend will likely continue because Japan is experiencing a "super-aging" society.
The development of telecommunications equipment has enabled us to establish telemedicine, including telemonitoring. Telemonitoring has attracted interest as a potential solution to provide care for increasing aging populations living with chronic respiratory failure, particularly HOT users. In Japan, payment for "remote patient monitoring" was newly added to the medical payment system in 2018. Despite the increasing importance of home health care and telemedicine for chronic respiratory failure, a system to collect useful bioinformation has not yet been established. The aim of this department is to improve the management of respiratory failure by establishing a telemonitoring system through the collaboration of the Kyoto University Hospital and Teijin Pharma Ltd.
Staff
Associate Professor

Tomohiro Handa

Assistant Professor

Satoshi Hamada
Collaboration
Department of Clinical Bio-resource Research and Development
For medical research and development, clinical samples are emerging to play important roles in every phase throughout the entire process. Moreover, clinical sample is one of the most valuable resources for assessing interpatient heterogeneity to achieve precision and personalized medicine. Thus, analysis on clinical samples become more and more critical for clinical practice as well as R&D. Kyoto university has built up KBBM, Inc. teaming up with 7 private companies to ensure ethics and quality in collection, transfer and preservation of clinical samples. These supports by KBBM are going to be applied to all the clinical samples and medical information associated with them, including healthy controls, collected through the Clinical Bioresource Center in Kyoto university hospital. Accordingly, medical research and development in Kyoto university will be further promoted by taking advantages of easily accessible and quality controlled clinical samples and their data.
The researchers in our department have developed and improved methods for the preparation, culture and application of cancer cells as well as normal cells from patient samples. We are currently working on establishing panels of the cultured cancer cells from different patient samples. By integrating information including ex vivo chemo/radio-sensitivity assay, in vivo assay, clinical course, genome sequencing, OMICS data, and so on, we aim to develop novel targets of therapy, and biomarkers for selecting suitable therapeutics for each patient. We keep promoting innovation in the technology of culturing patient-originated cells to truly realize personalized medicine.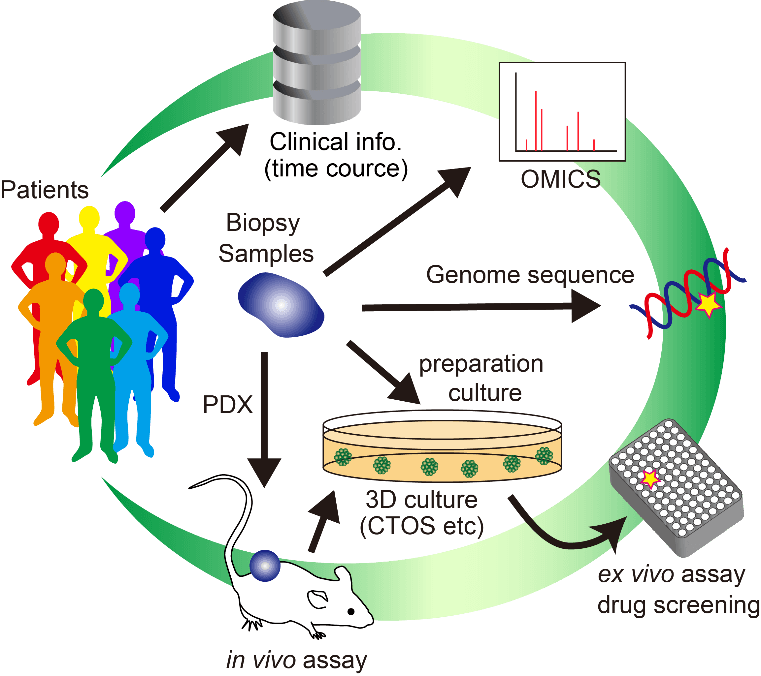 Staff
Program specific professor

Masahiro Inoue

Program specific assistant professor

Kunishige Onuma
Collaboration
Next-generation Oncology Discovery
under construction
Department of Epilepsy, Movement Disorders and Physiology



under construction

under construction
Department of Advanced Imaging in Medical Magnetic Resonance
under construction
Department of Regulation of Neurocognitive Disorders
Department of Regulation of Neurocognitive Disorders
– Alliance between Japanese-founded U.S. Bio Ventures (Cyn-K, LLC & VLP Therapeutics, LLC) and Department of Neurology of Kyoto University Graduate School of Medicine –
As Japan entered a rapidly aging society and the number of people with neurocognitive disorders continues to increase, finding measures to address them has become urgent matters for the whole country. In particular, patients with neurodegenerative diseases such as Alzheimer's disease and Parkinson's disease are increasing in number depending on the age, however there is still no fundamental treatment for such neurocognitive disorders. In our department, we will use the platform technology discovered and developed by VLP Therapeutics (USA), co-founded by our industry collaborator, and investigate the effects of the vaccine targeting a pathogenesis protein associated with neurocognitive disorders on such disorders, as well as elucidate the mechanism of brain degeneration and aging. We think it better to have vaccines for the treatment of neurocognitive disorders. They offer not only economic advantage but also objective indexes such as antibody titers that can be used to measure the effects. Furthermore, they eliminate the concerns for elderly patients with neurocognitive disorders to forget to medicate or to over-medicate themselves. Vaccines offer overwhelming benefits over drugs that need to be taken daily, or the expensive antibody medicines. We aim to develop three types of vaccines according to the progression of the disease.
Management Members
Professor, Department of Regulation of Neurocognitive Disorders

Ryuji Ueno, M.D., Ph.D., Ph.D.

Professor and Chairman, Department of Neurology

Ryosuke Takahashi, M.D., Ph.D.

Associate Professor, Regulation of Neurocognitive Disorders

Wataru Akahata, Ph.D.

Associate Professor, Department of Neurology

Akira Kuzuya, M.D., Ph.D.

Assistant Professor, Department of Regulation of Neurocognitive Disorders

Kazuya Goto, M.D., Ph.D.

Assistant Professor, Department of Regulation of Neurocognitive Disorders

Yuji Fukushima, Ph.D.
Immunology and Genomic Medicine
We have been studying molecular mechanisms controlling development and function of lymphocytes. Currently we are addressing important questions:
​

How antibody diversity is controlled by AID, a putative RNA-editing enzyme required for class switch recombination (CSR) and somatic hypermutation (SHM)? We found that AID reduces the amount of Topoisomerase 1, generating non-B DNA and inducing irreversible cleavage by Topoisomearse 1.

​

How PD-1 deficiency leads to development of autoimmune diseases? Why a fraction of cancer patients are not sensitive to the PD-1 blockade cancer immunotherapy. <Research and Education>
We proved that class switch is mediated by recombination with dynamic excision of genomic fragments. In 2000, we discovered activation-induced cytidine deaminase (AID), which is responsible for DNA cleavage to initiate both CSR and SHM. Surprisingly, AID mutates not only the antibody gene, but also protooncogenes. We have found that topoisomerase 1 (Top1) is the enzyme that initiates CSR and SHM by cleaving S and V region, respectively. Furthermore, the transcription coupled nucleosomal reassembly is critical for this Top1-mediated DNA cleavage during CSR and SHM.
Recently, clinical trials of humanized anti-PD-1 antibody against melanoma, renal cancer and lung cancer demonstrated that PD-1 blockade can cure cancer mediated by tumor-reactive T cell activation. Although anti-human PD-1 antibody (Nivolumab) has been approved for the above cancers, more than half patients were still unresponsive. PD-1 blockade leads not only anti-cancer immunity, but also autoimmunity. The aim of our research is to elucidate how PD-1 control the anti-tumor or auto-immunity and to regulate the sensitivity for the PD-1 blockade cancer immunotherapy.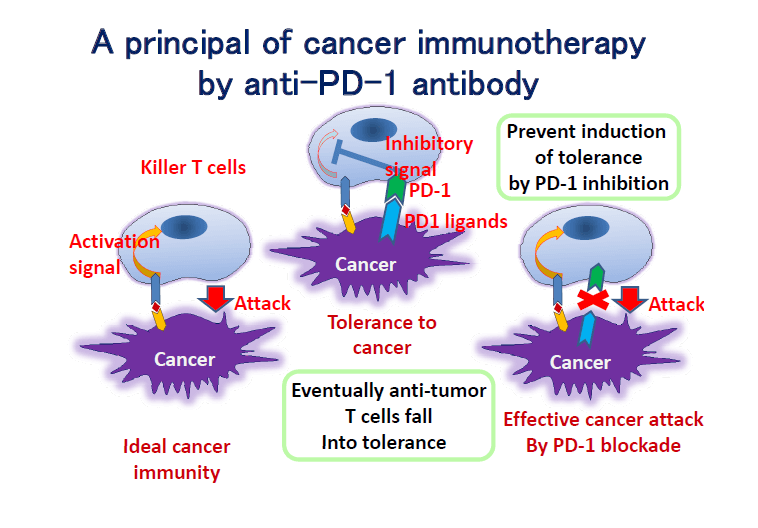 Staff
Professor

Tasuku Honjo

Associate Professor

Nasim Begum, Maki Kobayashi, Kenji Chamoto

Assistant Professor

Tomonori Yagichi
Department of Digital Health and Epidemiology
Department of Digital Health and Epidemiology was established in July 2020 supported by Graduate School of Medicine, Kyoto University, for the purpose of conducting research that contributes to preventive medicine, behavior change, and evaluation of medical care using medical real-world database. This department conducts research including insomnia, drug adherence, lifestyle habits and their relationship to disease, and drug evaluation for safety or effectiveness.
Staff
Professor Sachiko Tanaka
Assistant Professor Toshiki Fukasawa
Assistant Professor Kayoko Mizuno
Collaboration 
Eisai Co., Ltd. 
Kyowa Kirin Co.,Ltd.
Department of Genomic Medicine
under construction
Department of drug discovery for inflammatory skin diseases
under construction
Laboratory of Tumor Microenvironment and Immunity
Cancer is the leading cause of death in Japan, affecting one million people annually. Recent advances in medical technology, especially with the development of antibody drugs against immune check molecules such as PD-L1/PD-1, have changed cancer from an incurable disease to a curable disease. However, it still remains a major threat to human health, with an average five-year survival rate of around 60% and 370,000 deaths per year.
Laboratory of Tumor Microenvironment and Immunity is an industry-academia collaboration project launched as a successor to the DSK project started in 2011, focusing on stromal cells infiltrating cancer tissues in collaboration with Sumitomo Pharma Co., Ltd. (formerly Dainippon Sumitomo Pharma Co., Ltd.). Based on this knowledge, we aim to develop and create original and innovative anti-cancer drugs and diagnostic/therapeutic methods.
Staff
Professor

Masakazu Hattori

Junior Associate Professor

Tomonari Awaya

Assistant Professor

Yan Xu
Collaboration
Sumitomo Pharma Co., Ltd.
Department of Artificial Intelligence in Healthcare and Medicine
Conventional disease risk assessment is based on the results of medical checkups or medical examinations conducted only several times a year. As a result, it is not possible to assess and monitor disease risk taking into account changes of our body on a daily basis . In the Department of Artificial Intelligence in Healthcare and Medicine ,through joint research with Omron Healthcare Inc., which is working toward a "Zero Event" goal, lab members are developing a system to evaluate the daily increase /fall in disease risk precisely based on individual lifestyle habits and daily vital sign data. We will conduct and support statistical and machine learning analyses using medical information and time-series data from medical and health equipment outside the hospital that can be utilized by the joint research partner. By using such data, we aim to create new disease risk indicators that take into account daily lifestyle and vital sign changes.
Staff
Associate Professor

Yohei Mineharu

Assistant Professor

Hirohiko Kohjitani
Collaboration
Omron Healthcare Co., Ltd.
Department of Drug Discovery for Intractable Diseases
We conduct cutting-edge research in collaboration with industry and academia with the aim of treating intractable and rare diseases, with a focus on skin diseases or a molecular mechanism common to diseases. The skin is an organ that surrounds the entire body. Skin diseases are very diverse, including infectious diseases, autoimmune diseases, allergic diseases, drug eruptions, and tumors. The skin is visible to all and can be touched directly. The strength of direct access to organs is one of the strengths of modern dermatology. Skin biopsies, stratum corneum sampling by tape stripping, artificial blisters are used to safely collect diseased cells, to which cutting-edge analysis techniques are applied. In addition, we target ferroptosis, abnormal splicing, GPCR signaling, etc. as molecular mechanisms common to diseases. Utilizing the strengths of Kyoto University, we will continue to advocate new disease concepts through exchanges with different fields and contribute to a better world.
Staff
Associate Professor

Takashi Nomura

Junior Associate Professor

Masayasu Toyomoto
Collaboration
Torii Pharmaceutical Co., Ltd
BTB Drug Development Research Center Co., Ltd.
Department of Personalized Cancer Medicine
under construction
Department of Immuno-Oncology PDT
Our department is working on developing an innovative cancer immunotherapy using photodynamic therapy to enhance the effectiveness of immune checkpoint inhibitors.
The objective of this project is to enhance the efficacy of cancer immunotherapy by a synergistic approach which combines Immune Checkpoint Inhibitors (ICI), such as Nivolumab, with photodynamic therapy (PDT). Our goal is to optimize the efficacy of cancer treatment and improve patient outcomes through this innovative combined cancer immunotherapy. We investigate whether combining ICI and PDT with local therapeutic effect induces abscopal effect and enhances the systemic efficacy of cancer immunotherapy. We aim to elucidate the mechanism underlying the synergistic efficacy of this combination therapy and establish optimal treatment setting. Furthermore, we evaluate the safety and efficacy of this combined cancer immunotherapy by investigator initiated clinical trial.
We are investigating the molecular mechanism by which the ICI and PDT combination boosts the anti-tumor immune effect and therapeutic advantage compared to other combination therapies.
Staff
Professor

Kenji Chamoto
Associate Professor Chikatoshi Katada

Lecturer  Tomonori Yaguchi
Assistant Professor  Masashi Tamaoki
Collaboration
Meiji Seika Pharma Co., Ltd.
Department of Adaptive and Maladaptive Responses in Health and Disease
Department of Adaptive and Maladaptive Responses in Health and Disease is a collaboration project with Meiji Holdings Co., Ltd., led by Professor Motoko Yanagita. We aim to reveal the underlying mechanisms of microbiome-mediated health and diseases and tissue aging to overcome such diseases. Moreover, we also aim to reveal the molecular and cellular mechanisms of age-dependent morphological and functional changes of brains.
Staff
Professor Takeshi Kawauchi

Assistant Professor Ryo Yamada
Collaboration