Ph.D. Professor Motonari Uesugi
Chemical biology is an interdisciplinary field of study that is often defined as "chemistry-initiated biology." As biological processes all stem from chemical events, it should be possible to understand or manipulate biological events by using chemistry. Our mission is to create new world of bioactive synthetic molecules: their new way to use, their new shapes, and their new sizes. We hope to open new avenues for small-molecule applications in a range of fields, including future concepts in drug discovery and use of small molecules for cell therapy.
Research and Education
In human history, bioactive small molecules have had three primary uses: as medicines, agrochemicals, and biological tools. Among them, what our laboratory has done in the past was the discovery and use of biological tools. Our laboratory has been discovering and designing small organic molecules with unique activities to them as tools for biological investigation and manipulation.
Our laboratory also provides rigorous research-based training for graduate students and postdoctoral fellows in the fields of molecular biology, biochemistry, organic chemistry, analytical chemistry, and cell biology, and the investigators in the laboratory have distinct backgrounds from each other's. It is one of our missions to produce independent scientists who generate original ideas to solve problems.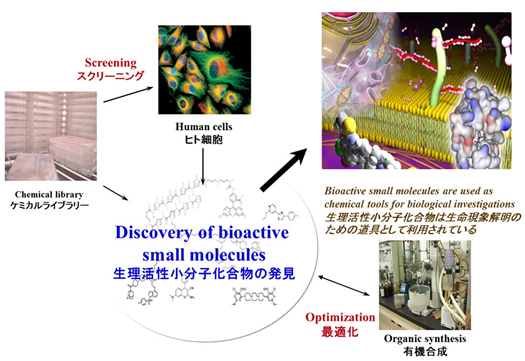 1) Discovery, synthesis, and biological use of bioactive small molecules
2)Exploring a new world of bioactive synthetic molecules
Recent Publications
Jin, S., Vu, H., Hioki, K., Noda, N., Yoshida, H., Shimane, T., Ishizuka, S., Takashima, I., Mizuhata, Y., Pe, K., Ogawa, T., Nishimura, N., Packwood, D., Tokitoh, N., Kurata, H., Yamasaki, S., Ishii, K., Uesugi, M. Discovery of Self‐Assembling Small Molecules as Vaccine Adjuvants. Angew. Chem. Int. Ed. 60(2), 961-969 (2021).
Takemoto, Y., Mao, D., Punzalan, LL., Götze, S., Sato, SI., Uesugi, M. Discovery of a Small-Molecule-Dependent Photolytic Peptide. J. Am. Chem. Soc., 142(3), 1142-1146 (2020).
Asano, L., Watanabe, M., Ryoden, Y., Usuda, K., Yamaguchi, T., Khambu, B., Takashima, M., Sato, S., Sakai, J., Nagasawa, K., Uesugi, M. Vitamin D metabolite, 25-Hydroxyvitamin D, regulates lipid metabolism by inducing degradation of SREBP/SCAP. Cell Chem Biol. 24, 207-217 (2017).
Mao, D., Ando, S., Sato, S., Qin, Y., Hirata, N., Katsuda, Y., Kawase, E., Kuo, T.F., Minami, I., Shiba, Y., Ueda, K., Nakatsuji, N., Uesugi, M. A synthetic hybrid molecule for the selective removal of human pluripotent stem cells from cell mixtures. Angew. Chem. Int. Ed. 56, 1765-1770 (2017).
Katsuda, Y., Sato, S., Asano, L., Morimura, Y., Furuta, T., Sugiyama, H., Hagihara, M., Uesugi, M. A small molecule that represses translation of G-quadruplex-containing mRNA. J. Am. Chem. Soc.138, 9037-9040 (2016).
Laboratory
Professor Motonari Uesugi
Associate Professor Shinichi Sato
Lecturer Amelie Perron
Assistant Professor Yasushi Takemoto
Tel: +81-774-38-3225
Fax: +81-774-38-3226
Email:uesugi@scl.kyoto-u.ac.jp
URL :http://www.scl.kyoto-u.ac.jp/~uesugi/index.php