Associate Professor Masao Tanaka
Rheumatoid arthritis (RA) is a systemic autoimmune disease characterized by a chronic polyarticular synovitis that leads to joint damage with disability. Department of Advanced Medicine for Rheumatic Diseases was established in April 2011 as a collaboration between physicians and orthopaedic surgeons. The department is dedicated to treatment, research and education on rheumatic diseases with arthritis. Our outpatient clinic (RA center) provides cutting-edge treatments to achieve a clinical remission and propose educational programs for co-medicals and patients.
Research and Education
Our goal is to cure or to control the disease activity of rheumatic diseases such as rheumatoid arthritis (RA). We conduct clinical and basic researches based on our comprehensive cohort system and RA sample center.
Ongoing clinical researches are as follows:
identification of factors that lead to early diagnosis and prognosis of RA
role of environmental factors for the initiation of rheumatic diseases
roles of operative treatments on disease activity and functional prognosis
The topics of our basic research are as follows:
modification of autoimmunity in patients with rheumatoid arthritis by antirheumatic drugs
development of RA treatment using stem cells
roles of CD4 T cells in rheumatic diseases
suppression of joint destruction by antirheumatic drugs, and more with the collaboration with relevant departments
Another important mission of our department is education of medical students, co-medicals, and patients via lectures and RA classes that lead to thorough understanding of the pathophysiology, care and treatments of rheumatic diseases.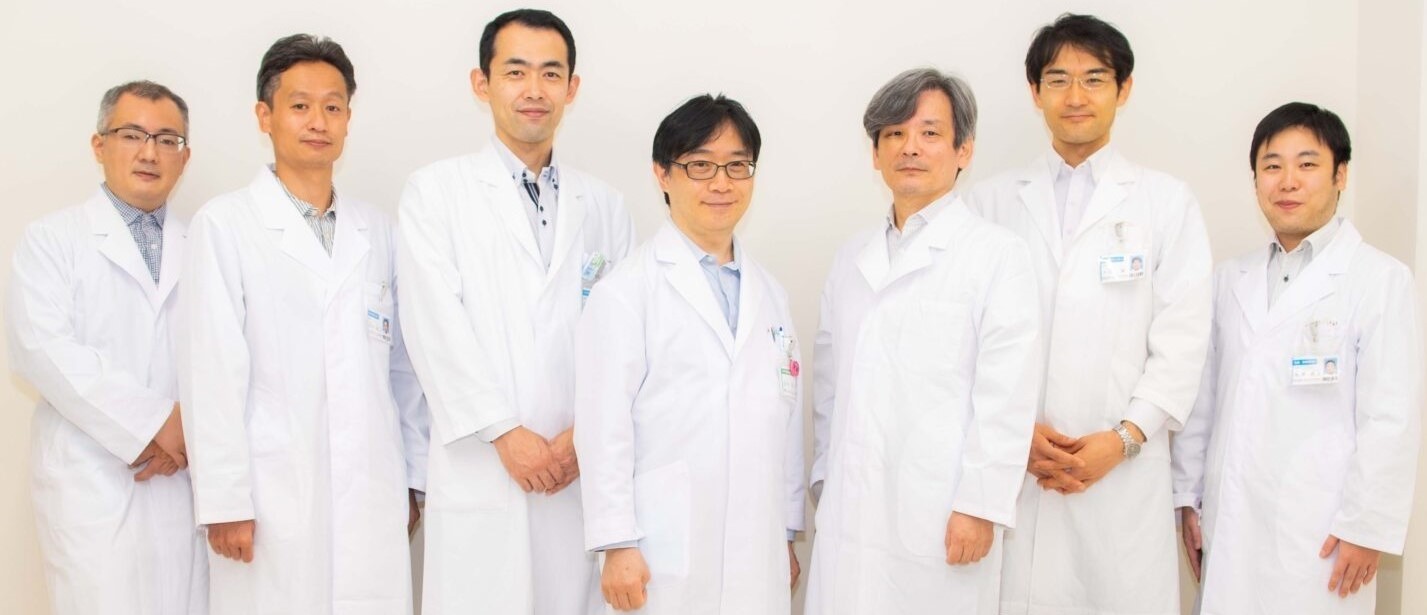 Department of Advanced Medicine for Rheumatic Diseases consists of physicians and orthopaedic surgeons and provides optimal treatment for patients.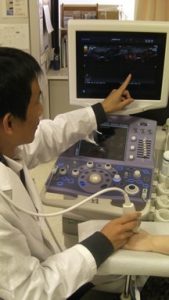 Ultrasound of joints for diagnosis and evaluation of rheumatoid arthritis
Recent Publications
Tabuchi Y, Katsushima M, Nishida Y, Shirakashi M, Tsuji H, Onizawa H, et al. Oral dextran sulfate sodium administration induces peripheral spondyloarthritis features in SKG mice accompanied by intestinal bacterial translocation and systemic Th1 and Th17 cell activation. Arthritis research & therapy. 2022;24(1):176. doi: 10.1186/s13075-022-02844-4.
Shirakashi M, Maruya M, Hirota K, Tsuruyama T, Matsuo T, Watanabe R, et al. Effect of Impaired T Cell Receptor Signaling on the Gut Microbiota in a Mouse Model of Systemic Autoimmunity. Arthritis & rheumatology (Hoboken, NJ). 2022;74(4):641-53. doi: 10.1002/art.42016.
Murata K, Uozumi R, Hashimoto M, Ebina K, Akashi K, Onishi A, et al. The real-world effectiveness of anti-RANKL antibody denosumab on the clinical fracture prevention in patients with rheumatoid arthritis: The ANSWER cohort study. Mod Rheumatol. 2022;32(4):834-8. doi: 10.1093/mr/roab043.
Iwasaki T, Watanabe R, Ito H, Fujii T, Okuma K, Oku T, et al. Dynamics of Type I and Type II Interferon Signature Determines Responsiveness to Anti-TNF Therapy in Rheumatoid Arthritis. Front Immunol. 2022;13:901437. doi: 10.3389/fimmu.2022.901437.
Itaya T, Torii M, Hashimoto M, Jindai K, Yamamoto W, Tanigawa K, et al. Perceptions and behaviours related to COVID-19 in patients with rheumatoid arthritis: a cross-sectional study. Clin Rheumatol. 2022;41(1):45-51. doi: 10.1007/s10067-021-05840-2.
Laboratory
Associate Professor: Masao Tanaka
Senior Lecturer: Akira Onishi
Assistant Professor: Koichi Murata
Assistant Professor: Takayuki Fujii
Assistant Professor: Hideo Onizawa
Researcher: Natsuki Yamamoto
TEL:+81-75-751-3877
FAX:+81-75-751-3885
URL:http://www.racenter.kuhp.kyoto-u.ac.jp/