M.D., Professor Toshiya Murai
The Department of Psychiatry was established in September 1902. From then onward, our Department has continued to play an important role as a clinical research center for psychiatry in Japan, in particular, in the fields of psychopathology, neuropsychology, neuropathology, epileptology, child and forensic psychiatry. We will uphold this tradition as well as applying newly emerging techniques such as neuroimaging, we aim to be a clinical, research, and educational center of psychiatry with the best quality.
Research and Education
By applying neurobiological as well as psychosocial approaches flexibly, we aim to achieve a multi-faceted understanding of psychiatric disorders. Using high-resolutional MRI, the Neuroimaging Group is attempting to elucidate the neural correlates of various neuropsychiatric conditions including schizophrenia, depression, and behavioral addictions. The Psychopathology Group focuses on symptomatology as well as psychotherapy in various psychiatric conditions including eating disorders. In collaboration with brain surgeons and occupational and speech therapists, the Neuropsychology Group is investigating neural correlates of cognitive and behavioral sequelae after brain damage. The Child and Adolescent Psychiatry Group is currently focusing on relationships between phenotypes and neurocognitive functions, as well as effectiveness of various interventions. Collaborations among these groups are very active, and, as a result, our Department remains to be a best clinical, research, and educational center of psychiatry.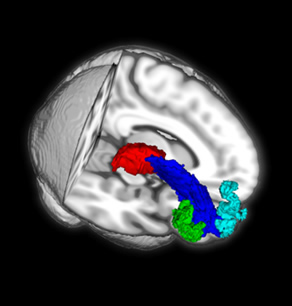 1.Visualization of thalamo-frontal fibers and frontal cortices (JAMA Psychiatry, 2013).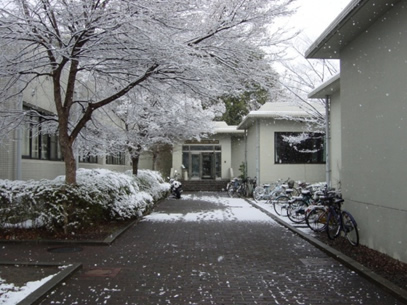 2.The psychiatric department building.
Recent Publications
Noda T, Isobe M, Mishima R, Tose K, Kawabata M, Aso T, Tei S, Noma S, Murai T. Neural correlates of a mindfulness-based intervention in anorexia nervosa. BJP Open 9:e22, 2023.
Fujimoto G, Ubukata S, Sugihara G, Oishi N, Aso T, Murai T, Ueda K. A model for estimating the brainstem volume in normal healthy individuals and its application to diffuse axonal injury patients. Scientific Reports 13: 33, 2023.
Inaba H, Li H, Kawatake-Kuno A, Dewa K, Nagai J, Oishi N, Murai T, Uchida1 S. GPCR-mediated calcium and cAMP signaling determines psychosocial stress susceptibility and resiliency. Science Advances 9:eade5397, 2023.
Kyuragi Y, Oishi N, Yamasaki S, Hazama M, Miyata J, Shibata M, Fujiwara H, Fushimi Y, Murai T, Suwa T. Information flow and dynamic functional connectivity during electroconvulsive therapy in patients with depression. Journal of Affective Disorders 328: 141-152, 2023.
Otsuka S, Murai T. The unique contribution of handwriting accuracy to literacy skills in Japanese adolescents. Reading and Writing, in press.
Laboratory
Professor: Toshiya Murai
Senior Lecturer: Jun Miyata, Hironobu Fujiwara
Assistant Professor:Taro Suwa, Naoko Sugita, Yujiro Yoshihara, Masanori Isobe, Teruhisa Uwatoko, Manabu Kubota, Haruka Kozuki, Hiromichi Inaba, Keima Tose, Kosuke Tsurumi
Program-Specific Associate Professor: Naoya Oishi
Program-Specific Assistant Professor: Sadao Otsuka
TEL:+81-75-751-3386
FAX:+81-75-751-3246
e-mail: kyopsy@kuhp.kyoto-u.ac.jp
URL: https://psychiatry.kuhp.kyoto-u.ac.jp