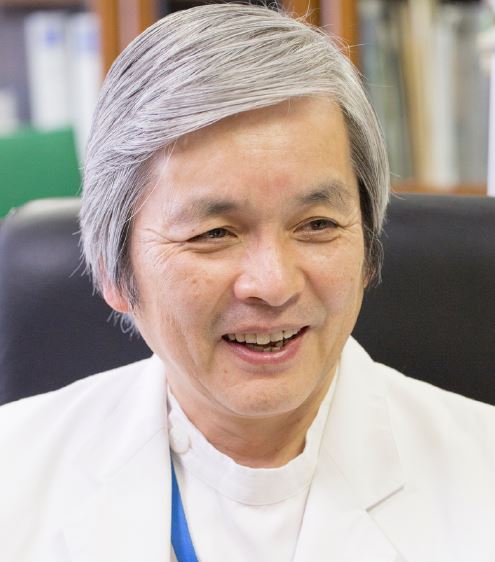 M.D., Ph.D. Professor Susumu Miyamoto
The field of neurosurgery has developed as a branch of neuroscience, centering around the diagnosis and treatment of vascular and neurological diseases of the brain, spinal cord, and peripheral nerves. Our department's major strength is that we focus on pursuing an ideal balance between clinical work and science, for example, by conducting basic research rooted in clinical issues, developing innovative treatments based on science, and establishing new evidence from designing and conducting clinical studies. In various therapeutic areas such as neurovascular disorders, cerebral neoplasms, nerve regeneration, and functional neurosurgery, we aim to cultivate neurosurgeons equipped with both advanced knowledge and cutting-edge skills, along with an attitude to constantly take a scientific approach.
Research and Education
In clinical research, we play a central role in multiple Japan-wide multicenter collaborative studies in the areas of neurovascular disorders and cerebral neoplasms, providing global-level evidence. In the functional brain field, we develop functional brain imaging methods using high-magnetic field MRI and magnetoencephalography (MEG), and we develop/apply intraoperative functional brain monitoring, along with working on functional elucidation primarily of the cerebral network.
In basic research, we are active in multiple disease states including Moyamoya disease, cerebral aneurysms, arteriosclerosis, glioma, pediatric brain tumors, and pituitary tumors, and we participate in a multitude of projects, including the elucidation of pathology based on molecular mechanisms and the development of cancer immunotherapy, novel biomaterials such as bioabsorbable stents, and regenerative medicine through collaborative work with the Center for iPS Cell Research and Application (CiRA). For fostering human resources, we created a training program together with affiliated institutions to nurture neurosurgeons with a broad perspective. By efficiently gaining rich clinical experience, trainees can acquire skills necessary for microscopic surgery and cerebrovascular treatment early in their training. At the graduate school, we have established a system where trainees can engage in cutting-edge research in various specialized areas while continuing to gain clinical experience. Active in training neurosurgeons from all over the country and the world, the program enrolls many domestic and international neurosurgeons, facilitating a wide range of social exchange.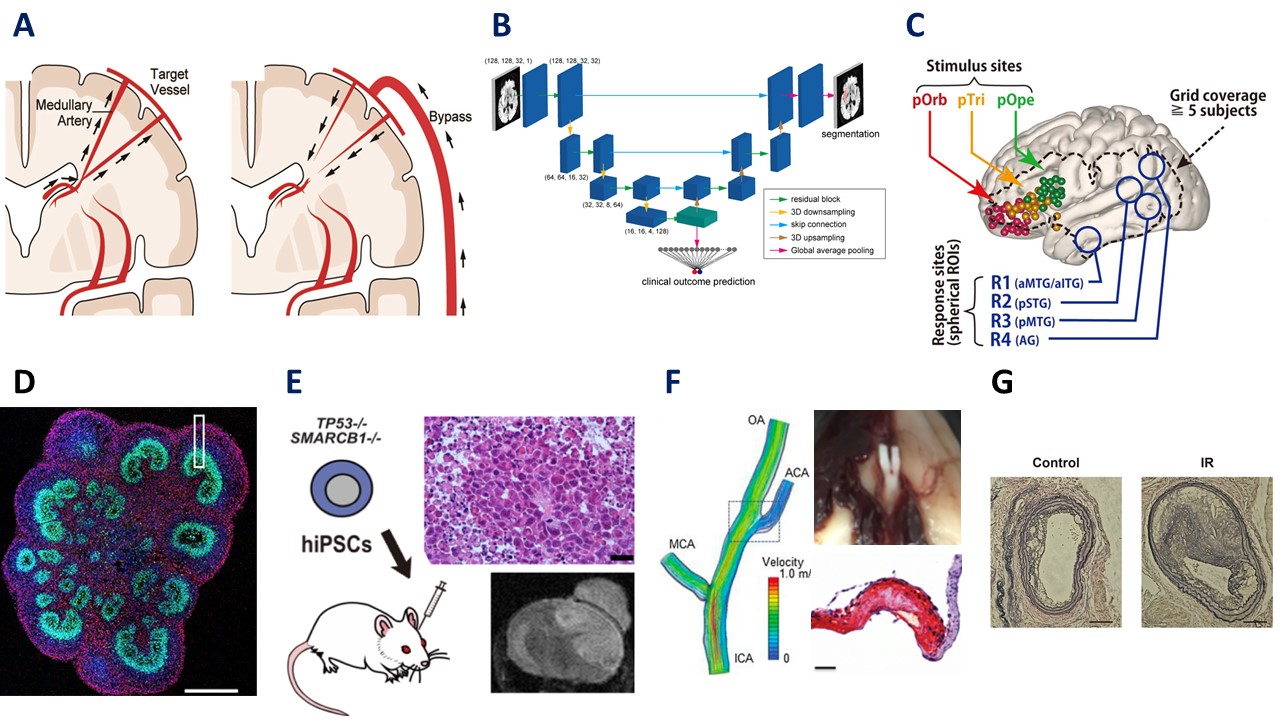 Figure1.
Clinical Research
A: Target Bypass for Moyamoya Disease
B: Predicting Clinical Outcomes of Large Vessel Occlusion Using Machine Learning AI
Basic Research
C: Intraoperative Cortico-Cortical Evoked Potential Study
D: Neural Differentiation and Development Using Embryonic Stem Cell
E: Human Pluripotent Stem Cell-Derived Tumor Model
F: Mouse Cerebral Aneurysm Model
G: Mouse Model of Radiation-induced Atherosclerosis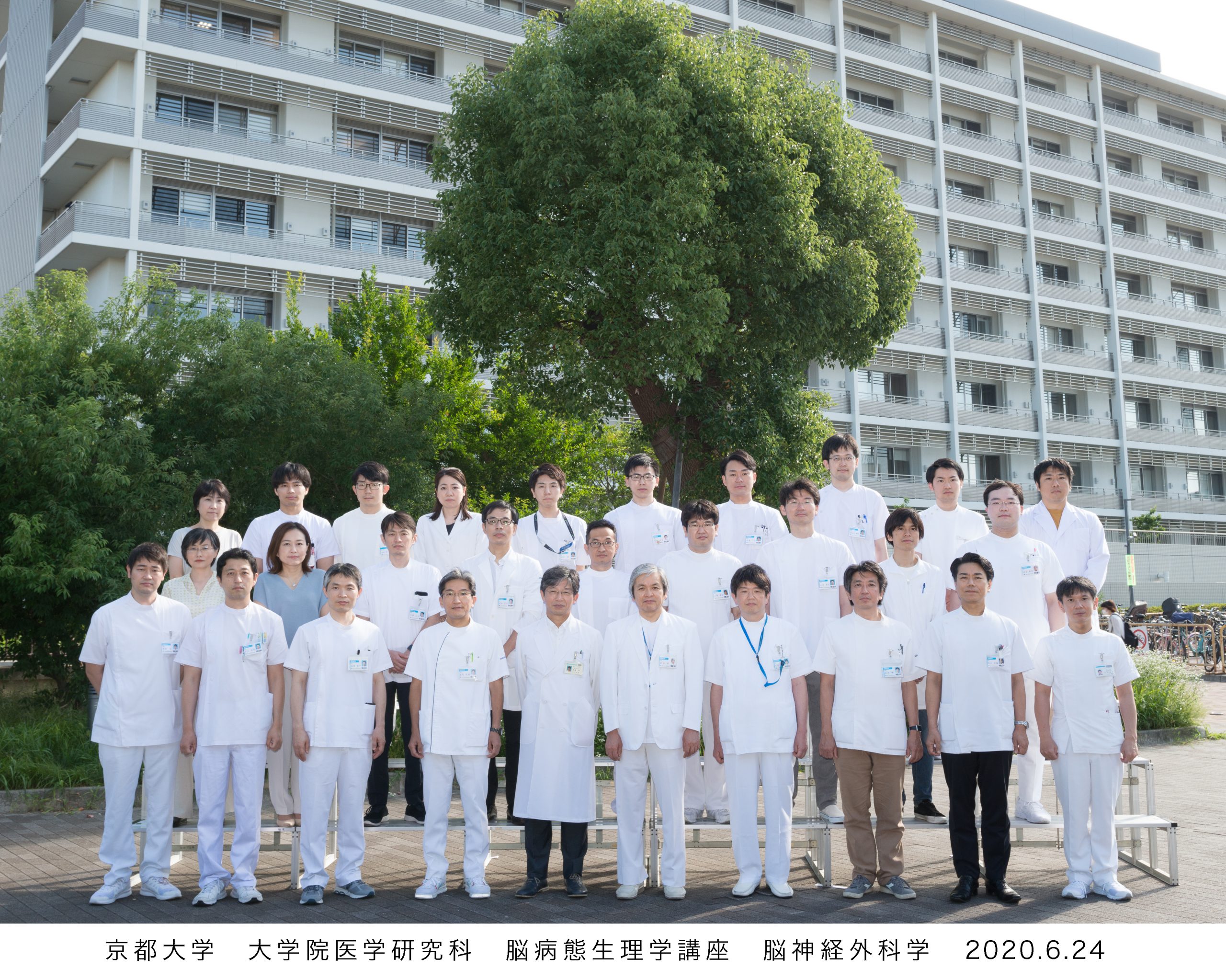 Figure2.
Group Photo of Neurosurgical Team at Kyoto University
Recent Publications
Terada Y, Jo N, Arakawa Y, Sakakura M, Yamada Y, Ukai T, Kabata M, Mitsunaga K, Mineharu Y, Ohta S, Nakagawa M, Miyamoto S, Yamamoto T, Yamada Y. Human Pluripotent Stem Cell-Derived Tumor Model Uncovers the Embryonic Stem Cell Signature as a Key Driver in Atypical Teratoid/Rhabdoid Tumor. Cell Rep. 2019 Mar 5;26(10):2608-2621.
Nishi H, Oishi N, Ishii A, Ono I, Ogura T, Sunohara T, Chihara H, Fukumitsu R, Okawa M, Yamana N, Imamura H, Sadamasa N, Hatano T, Nakahara I, Sakai N, Miyamoto S. Predicting Clinical Outcomes of Large Vessel Occlusion Before Mechanical Thrombectomy Using Machine Learning. Stroke. 2019 Sep;50(9):2379-2388.
Nakae T, Matsumoto R, Kunieda T, Arakawa Y, Kobayashi K, Shimotake A, Yamao Y, Kikuchi T, Aso T, Matsuhashi M, Yoshida K, Ikeda A, Takahashi R, Lambon Ralph MA, Miyamoto S. Connectivity Gradient in the Human Left Inferior Frontal Gyrus: Intraoperative Cortico-Cortical Evoked Potential Study. Cereb Cortex. 2020 Jun 30;30(8):4633-4650.
Miyata T, Minami M, Kataoka H, Hayashi K, Ikedo T, Yang T, Yamamoto Y, Yokode M, Miyamoto S. Osteoprotegerin Prevents Intracranial Aneurysm Progression by Promoting Collagen Biosynthesis and Vascular Smooth Muscle Cell Proliferation. J Am Heart Assoc. 2020 Sep;9(17):e015731.
Nagata M, Minami M, Yoshida K, Yang T, Yamamoto Y, Takayama N, Ikedo T, Hayashi K, Miyata T, Yokode M, Miyamoto S. Calcium-Binding Protein S100A4 Is Upregulated in Carotid Atherosclerotic Plaques and Contributes to Expansive Remodeling. J Am Heart Assoc. 2020 Sep 15;9(18):e016128.
Laboratory
Director: Susumu Miyamoto
Associate Professor: Kazumichi Yoshida, Akira Ishii
Lecturer: Yoshiki Arakawa, Takayuki Kikuchi, Takeshi Funaki
Assistant Professor: Masakazu Okawa, Masahiro Tanji, YukihiroYamao, Noritaka Sano, Yu Abekura, Toshiki Matsuoka, Hiroki Yamada
Department of Neurosurgery, Kyoto University Graduate School of Medicine, 54 Kawahara-cho, Shogoin, Sakyo-ku, Kyoto 606-8507, Japan
e-mail : miy@kuhp.kyoto-u.ac.jp
URL : http://neurosur.kuhp.kyoto-u.ac.jp/