M.D., Ph.D. Professor Ryosuke Takahashi
Neurological disorders have been increasing in the super-aging society. The pathogenic mechanisms, however, remain unraveled in many of them. Our mission is as follows:
1) Provide the best quality care to patients
2) Bridge the gap between bedside and neuroscience to develop better ways to prevent, diagnose and treat neurological diseases; dementia such as Alzheimer's disease (AD), cerebrovascular diseases, neurodegenerative disorders including Parkinson disease (PD) and amyotrophic lateral sclerosis (ALS), intractable epilepsy, and neuroimmune diseases
3) Cultivate the creative and practical abilities of medical students, residents and research fellows to raise leaders for the next generation
Research and Education
Our department has three main laboratories, which collaborate with each other by means of exchanges of cutting-edge knowledge and techniques.
1) 1st/2nd laboratory (Neuropathology)
This section can be divided into a) human neuropathology investigating autopsied brain, b) experimental neuropathology examining animal models to focus on cerebrovascular diseases, neuroimmune diseases and c) neuroimaging for dementia and neurodegenerative diseases.
3rd/5th laboratory (Clinical neurophysiology)
The goal of this section is to reveal the pathophysiology of intractable epilepsy, movement disorders and the physiology of normal higher brain function through the approaches of system neuroscience. They employ neurophysiological tools such as electroencephalography, nerve conduction study and neuroimaging techniques.
4th/6th laboratory (Molecular neuroscience)
This section aims to unveil the pathogenesis of neurodegenerative diseases and to develop their therapies, employing molecular, gene, cell-level analysis and animal models. Based upon the idea that the accumulation of misfolded proteins or aberrant intracellular communication can be a common mechanism for neurodegenerative diseases, they especially focus on AD and PD-related disorders.
Our department offers postgraduate clinical training for residents and hands-on basic science training for undergraduate students.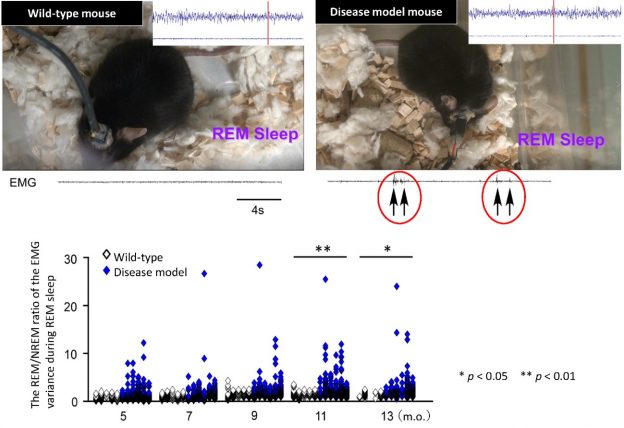 Members of Department of Neurology 2019
We created a novel mouse model of prodromal Parkinson's disease that showed RBD (REM sleep behavior disorder)-like behavior and hyposmia without motor symptoms
(Publication #4)
Recent Publications
Endothelial Progenitor Cell Secretome and Oligovascular Repair in a Mouse Model of Prolonged Cerebral Hypoperfusion. Maki T, Morancho A, Martinez-San Segundo P, Hayakawa K, Takase H, Liang AC, Gabriel-Salazar M, Medina-Gutierrez E, Washida K, Montaner J, Lok J, Lo EH, Arai K, Rosell A. Stroke. 2018;49(4):1003-1010.
NLRP3 Inflammasome-Related Proteins Are Upregulated in the Putamen of Patients With Multiple System Atrophy. Li F, Ayaki T, Maki T, Sawamoto N, Takahashi R. J Neuropathol Exp Neurol. 2018;77(11):1055-1065.
Two types of clinical ictal direct current shifts in invasive EEG of intractable focal epilepsy identified by waveform cluster analysis. Kajikawa S, Matsuhashi M, Kobayashi K, Hitomi T, Daifu-Kobayashi M, Kobayashi T, Yamao Y, Kikuchi T, Yoshida K, Kunieda T, Matsumoto R, Kakita A, Namiki T, Tsuda I, Miyamoto S, Takahashi R, Ikeda A. Clin Neurophysiol. 2022;137:113-121.
α-Synuclein BAC transgenic mice exhibit RBD-like behaviour and hyposmia: a prodromal Parkinson's disease model. Taguchi T, Ikuno M, Hondo M, Parajuli LK, Taguchi K, Ueda J, Sawamura M, Okuda S, Nakanishi E, Hara J, Uemura N, Hatanaka Y, Ayaki T, Matsuzawa S, Tanaka M, El-Agnaf OMA, Koike M, Yanagisawa M, Uemura MT, Yamakado H, Takahashi R. Brain. 2020;143(1):249-265.
Synaptic Vesicle Protein 2B Negatively Regulates the Amyloidogenic Processing of AβPP as a Novel Interaction Partner of BACE1. Miyamoto M, Kuzuya A, Noda Y, Ueda S, Asada-Utsugi M, Ito S, Fukusumi Y, Kawachi H, Takahashi R, Kinoshita A. J Alzheimers Dis. 2020;75(1):173-185.
Laboratory
Professor: Ryosuke Takahashi
Associate Professor: Akira Kuzuya
Senior Lecturer:Takakuni Maki, Naohiro Egawa
Assistant Professor: Akihiro Shimotake, Takashi Ayaki, Katsuya Kobayashi, Etsuro Nakanishi, Masanori Sawamura
TEL:+81-75-751-4397
FAX:+81-75-751-9780
e-mail:neuroofc@kuhp.kyoto-u.ac.jp
URL:https://neurology.kuhp.kyoto-u.ac.jp/