The Department of Cardiology at Kyoto University deals with diseases such as angina pectoris, myocardial infarction, valvular disease, heart failure, atherosclerosis, aneurysm, and arrhythmia. Due to the nature of the diseases and the large number of emergency cases, we strive to provide reliable cardiovascular care 24 hours a day.
In research, we aim for balanced development of basic and clinical research, and hope to create new value originating in Kyoto for the world.
Research and Education
Basic Research
The Basic Research Group conducts world-leading, highly original research using new research methods based on molecular biology, physiology, and genetics in order to solve questions obtained in clinical practice. Specifically, we are conducting research aimed at elucidating physiological functions of the heart and blood vessels, elucidating the pathogenesis of diseases, developing preventive and diagnostic methods, and translational research aimed at developing therapeutic methods. To this end, we widely seek the participation of young researchers and researchers from different fields.
Clinical Research
The Clinical Research Group promotes evidence-based medicine through clinical research in cardiology. In collaboration with many affiliated hospitals, more than 10 clinical studies, including multicenter randomized controlled trials, are underway. We have also established a course for young physicians to learn statistical methods in depth. For more information on our ongoing basic research and clinical research, please visit the Department's website. <http://kyoto-u-cardio.jp/>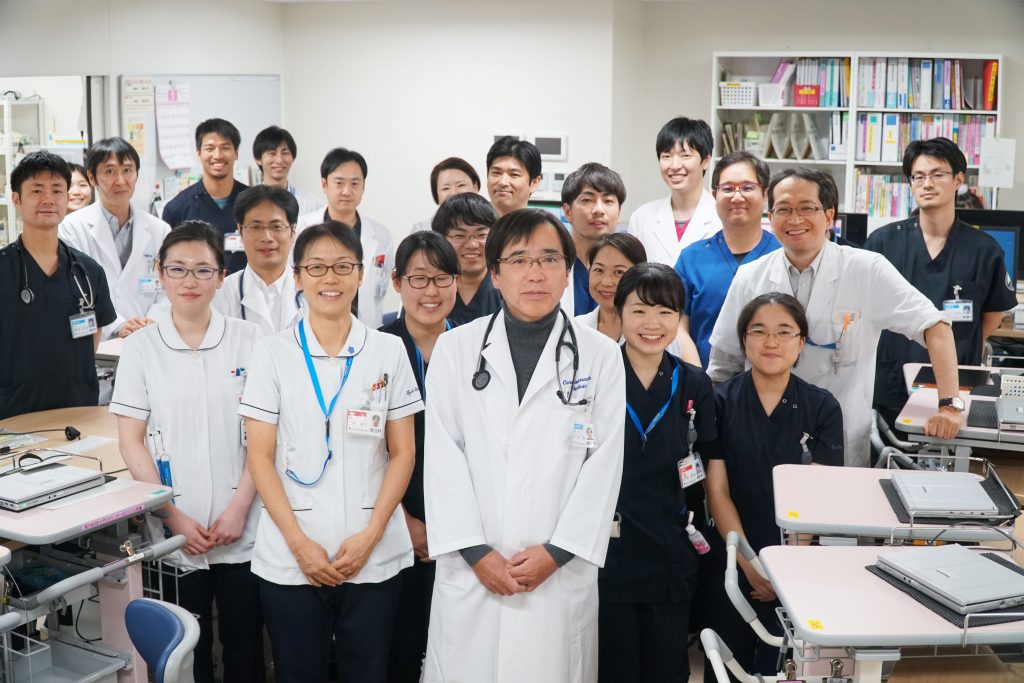 Recent Publications
Watanabe H, Domei T, Morimoto T, Natsuaki M, Shiomi H, Toyota T, Ohya M, Suwa S, Takagi K, Nanasato M, Hata Y, Yagi M, Suematsu N, Yokomatsu T, Takamisawa I, Doi M, Noda T, Okayama H, Seino Y, Tada T, Sakamoto H, Hibi K, Abe M, Kawai K, Nakao K, Ando K, Tanabe K, Ikari Y, Igarashi-Hanaoka K, Morino Y, Kozuma K, Kadota K, Furukawa Y, Nakagawa Y, Kimura K, STOPDAPT-2 Investigators. Effect of 1-Month Dual Antiplatelet Therapy Followed by Clopidogrel vs 12-Month Dual Antiplatelet Therapy on Cardiovascular and Bleeding Events in Patients Receiving PCI: The STOPDAPT-2 Randomized Clinical Trial. JAMA. 2019 Jun 25;321(24):2414-2427. doi: 10.1001/jama.2019.8145.
Matsumura-Nakano Y, Shizuta S, Komasa A, Morimoto T, Masuda H, Shiomi H, Goto K, Nakai K, Ogawa H, Kobori A, Kono Y, Kaitani K, Suwa S, Aoyama T, Takahashi M, Sasaki Y, Onishi Y, Mano T, Matsuda M, Motooka M, Tomita H, Inoko M, Wakeyama T, Hagiwara N, Tanabe K, Akao M, Miyauchi K, Yajima J, Hanaoka K, Morino Y, Ando K, Furukawa Y, Nakagawa Y, Nakao K, Kozuma K, Kadota K, Kimura K, Kawai K, Ueno T, Okumura K, Kimura T. An Open-Label Randomized Trial Comparing Oral Anticoagulation with and without Single Antiplatelet Therapy in Patients with Atrial Fibrillation and Stable Coronary Artery Disease Beyond One Year after Coronary Stent Implantation: The OAC-ALONE Study. 2018 Sep 24.
Taniguchi T, Morimoto T, Shiomi H, Ando K, Kanamori N, Murata K, Kitai T, Kadota K, Izumi C, Nakatsuma K, Sasa T, Watanabe H, Kuwabara Y, Makiyama T, Ono K, Shizuta S, Kato T, Saito N, Minatoya K, Kimura T; CURRENT AS Registry Investigators. Prognostic Impact of Left Ventricular Ejection Fraction in Patients With Severe Aortic Stenosis. JACC Cardiovasc Interv. 2017 Dec 18. pii: S1936-8798(17)31797-1.
Taniguchi T, Morimoto T, Shiomi H, Ando K, Kanamori N, Murata K, Kitai T, Kawase Y, Izumi C, Miyake M, Mitsuoka H, Kato M, Hirano Y, Matsuda S, Inada T, Nagao K, Murakami T, Takeuchi Y, Yamane K, Toyofuku M, Ishii M, Minamino-Muta E, Kato T, Inoko M, Ikeda T, Komasa A, Ishii K, Hotta K, Higashitani N, Kato Y, Inuzuka Y, Maeda C, Jinnai T, Morikami Y, Saito N, Minatoya K, Kimura T; CURRENT AS Registry Investigators. High- Versus Low-Gradient Severe Aortic Stenosis: Demographics, Clinical Outcomes, and Effects of the Initial Aortic Valve Replacement Strategy on Long-Term Prognosis. Circ Cardiovasc Interv. 2017 May;10(5). pii: e004796.
Shiomi H, Morimoto T, Kitaguchi S, Nakagawa Y, Ishii K, Haruna Y, Takamisawa I, Motooka M, Nakao K, Matsuda S, Mimoto S, Aoyama Y, Takeda T, Murata K, Akao M, Inada T, Eizawa H, Hyakuna E, Awano K, Shirotani M, Furukawa Y, Kadota K, Miyauchi K, Tanaka M, Noguchi Y, Nakamura S, Yasuda S, Miyazaki S, Daida H, Kimura K, Ikari Y, Hirayama H, Sumiyoshi T, Kimura T; ReACT Investigators. The ReACT Trial: Randomized Evaluation of Routine Follow-up Coronary Angiography After Percutaneous Coronary Intervention Trial. JACC Cardiovasc Interv. 2017 Jan 23;10(2):109-117.
Laboratory
Staff Members
Associate Processor:Koh Ono
Senior Lecturer:Satoshi Shizuta, Noboru Ashida
Assistant Professor:Yasuaki Nakagawa, Neiko Ozasa, Takahiro Horie, Shin Watanabe, Kyohei Yamaji, Hiroki Shiomi
Assistant Professor (Hospital):Yohei Tanada, Erika Yamamoto
Assistant Professor (Hospital – Clinical Laboratory):Eri Kato
Funded Laboratory
Associate Professor:Hideyuki Kinoshita
Senior Lecturer:Takeru Makiyama
iACT
Associate Processor:Takao Kato
Himedic Ward
Senior Lecturer:Yasuhiro Nakashima, Osamu Baba
TEL:+81-75-751-4254
FAX:+81-75-751-3289
e-mail:junkan@kuhp.kyoto-u.ac.jp
URL:http://kyoto-u-cardio.jp/