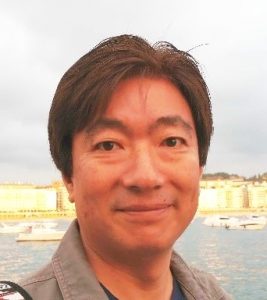 M.D., Ph.D. Professor Hideki Ueno
―Human Immunology―
The immune system is essential to protect our body from pathogens. The immune system requires strict control because its breakdown causes diseases. Our research focuses on understanding the human immune system in health and disease. We aim to define "the norm" of the human immune system, elucidate the pathophysiology of various diseases, and develop new therapeutic strategies.
Research and Education
While research with mouse models has contributed significantly to our understanding of immunology, there is a noticeable limitation in translating mouse findings to humans. Indeed, now we realize that there are many differences in the immune system between mice and humans. Therefore, the precise immune mechanisms in humans can only be elucidated by human immunology research using human specimens. Experimental approaches for human immunology have dramatically evolved during the past 5-10 years, thanks to advancements in technology and analytical tools. Whereas blood samples have been the main specimen for human immunology research, we can now analyze the immune cells isolated from tiny tissue samples, such as inflamed lesions of autoimmune diseases and cancer tissues, at a single-cell resolution. We perform the most advanced human immunology research using the state-of-the-art equipment and tools. We aim to elucidate "the norm" of the human immune system and identify "abnormals" in the immune system in various human diseases by using samples obtained from healthy subjects and patients. As of 2022, our target diseases include infectious diseases, vaccines, cancer immunity, autoimmune diseases, and allergies. We are particularly interested in human liver immunology.

Analysis of CD4+ T cell subsets specific for spike protein of SARS-CoV-2 in COVID-19 convalescent subjects by 5-laser Cytek Aurora FCM (left) and 10X Chromium 5' scRNAseq (center). TCR clonal overlap in CD4+ T cell subsets between SARS-CoV-2- and Human common cold-coronaviruses- specific cells (right).
Super-multicolor staining of an inflamed human liver tissue by using Fluidigm Hyperion.
Recent Publications
M. Yasutomi, A. F. Christiaansen, N. Imai, N. Martin-Orozco, C. V. Forst, G. Chen, H. Ueno. CD226 and TIGIT Cooperate in the Differentiation and Maturation of Human Tfh Cells. Front Immunol 13, 840457 (2022).
S. Horiuchi, H. Wu, W. C. Liu, N. Schmitt, J. Provot, Y. Liu, S. E. Bentebibel, R. A. Albrecht, M. Schotsaert, C. V. Forst, B. Zhang, H. Ueno. Tox2 is required for the maintenance of GC TFH cells and the generation of memory TFH cells. Science Advances 7, eabj1249 (2021).
H. Yoshitomi, H. Ueno. Shared and distinct roles of T peripheral helper and T follicular helper cells in human diseases. Cell Mol Immunol 18, 523-527 (2021).
B. Boisson, Y*. Honda, M*. Ajiro, J. Bustamante, M. Bendavid, A. R. Gennery, Y. Kawasaki, J. Ichishima, M. Osawa, H. Nihira, T. Shiba, T. Tanaka, M. Chrabieh, B. Bigio, H. Hur, Y. Itan, Y. Liang, S. Okada, K. Izawa, R. Nishikomori, O. Ohara, T. Heike, L. Abel, A. Puel, M. K. Saito, J. L. Casanova, M. Hagiwara, T. Yasumi. Rescue of recurrent deep intronic mutation underlying cell type-dependent quantitative NEMO deficiency. J Clin Invest 129, 583-597 (2019).
H. Yoshitomi, S. Kobayashi, A. Miyagawa-Hayashino, A. Okahata, K. Doi, K. Nishitani, K. Murata, H. Ito, T. Tsuruyama, H. Haga, S. Matsuda, J. Toguchida. Human Sox4 facilitates the development of CXCL13-producing helper T cells in inflammatory environments. Nat Commun 9, 3762 (2018).
Laboratory
Professor: Hideki Ueno
Associate Professor: Hiroyuki Yoshitomi
Program-Specific Assistant Professor: Yoshitaka Honda
Program-Specific Assistant Professor: Mio Hamatani
Assistant Professor: Shusei Fujioka
Assistant Professor: Mayu Fujioka
TEL: +81-75-753-4658
FAX: +81-75-753-4403
E-Mail:​ueno.hideki.8e@kyoto-u.ac.jp
URL: https://immunol.med.kyoto-u.ac.jp/