Ph.D., RN, RM, MN Professor Marie Furuta
The Japanese social environment related to women's lives has changed and a variety of perinatal issues such as a low birth rate and an increase of child abuse/neglect are widely discussed. Therefore, midwives are focused as health professionals to support women planning their healthy lives as well as delivering and nurturing children. The responsibilities of current midwives are larger and wider than ever. Graduates of the Perinatal epidemiology area are prepared for careers as researchers and midwives with advanced knowledge and skills.
Research and Education
The Perinatal epidemiology area has two main fields: the midwifery field and the women's health field. We also work on research that focuses on midwives' activities and midwifery educational systems at home and abroad.

The midwifery field provides an environment where graduates can achieve advanced midwifery theory, knowledge, and skills to independently diagnose and support women and infants in a normal perinatal period. Moreover, graduates also have the ability, based on evidence-based midwifery, to recognize and diagnose potential problems and complications in high-risk pregnant women and children. Students research and develop an advanced midwifery education system and a new perinatal system.

The women's health field explores advanced diagnoses and the support systems associated with women's reproductive health, rights, and evolving reproductive medicine. Students gain the knowledge and skills necessary to provide and develop proper and novel clinical care for individuals, families, and communities in complex situations.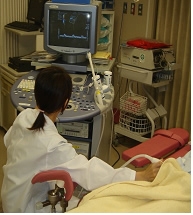 Ultrasound scan in the midwifery diagnosis
Publications
Chang YS, Coxon K, Portela AG, Furuta M, Bick D. Interventions to support effective communication between maternity care staff and women in labour: A mixed-methods systematic review. Midwifery. 2018 Apr;59:4-16.
Furuta M, Sin J, Ng ESW, Wang K. Efficacy and safety of pertussis vaccination for pregnant women – a systematic review of randomised controlled trials and observational studies. BMC Pregnancy Childbirth. 2017 Nov 22;17(1):390
Spain D, Sin J, Paliokosta E, Furuta M, Prunty JE, Chalder T, Murphy DG, Happé FG. amily therapy for autism spectrum disorders. Cochrane Database Syst Rev. 2017 May 16;5 :CD011894
Sin J, Spain D, Furuta M, Murrells T, Norman I. Psychological interventions for post-traumatic stress disorder (PTSD) in people with severe mental illness. Cochrane Database Syst Rev. 2017 Jan 24;1:CD011464
Furuta M, Spain D, Bick D, Ng ES, Sin J. Effectiveness of trauma-focused psychological therapies compared to usual postnatal care for treating post-traumatic stress symptoms in women following traumatic birth: a systematic review protocol.  BMJ Open. 2016 Nov 24;6(11):e013697
Laboratory
Professor:Marie Furuta
Senior Lecturer:Shoko Kondo
Assistant Professor:Keiko Doering
List for Tel, Fax & E-Mail:here