Associate Professor Atsushi Yamada
Our department, in collaboration with the department of therapeutic oncology, is in charge of chemotherapy and plays an important role in multidisciplinary treatment team for cancer patients. We aim to systematically utilize the clinical data accumulated in electronic medical records and promote their use as the real-world data in clinical and translational research. Our main goal is to contribute to the improvement of clinical outcome of cancer patients by means of both clinical practice and research works.
Research and Education
We actively pursue collaborations with basic as well as clinical researchers around the country, and our on-going research include a wide range of projects in the field of oncology. Chronic kidney disease is a common comorbidity among cancer patients, but the optimal methods for administration of chemotherapeutic agents in such patients are not fully elucidated. In addition, kidney injury caused by novel anticancer agents such as molecular targeted agents becomes more relevant in clinical practice. To solve these problems, we launched nationwide Onconephrology Consortium and are currently conducting multi-institutional studies. We are also engaged in translational research for development of novel biomarkers and treatments by utilizing biological samples such as blood and tissue specimen and linking with detailed clinical data of cancer patients.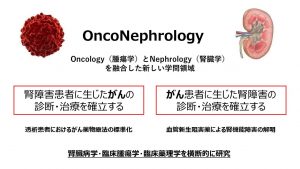 Recent Publications
Nishikawa Y, Hoshino N, Horimatsu T, Funakoshi T, Hida K, Sakai Y, Muto M, Nakayama T. Chemotherapy for patients with unresectable or metastatic small bowel adenocarcinoma: a systematic review. Int J Clin Oncol. 2020 Aug;25(8):1441-1449. doi: 10.1007/s10147-020-01703-z. Epub 2020 May 24.
Funakoshi T, Horimatsu T, Nakamura M, Shiroshita K, Suyama K, Mukoyama M, Mizukami T, Sakurada T, Baba E, Tsuruya K, Nozaki A, Yahata K, Ozaki Y, Ubara Y, Yasui H, Yoshimoto A, Fukuma S, Kondo N, Matsubara T, Matsubara K, Fukuhara S, Yanagita M, Muto M. Chemotherapy in cancer patients undergoing haemodialysis: a nationwide study in Japan. ESMO Open. 2018 Feb 23;3(2):e000301. doi: 10.1136/esmoopen-2017-000301. eCollection 2018.
Yamada A, Yu P, Lin W, Okugawa Y, Boland CR, Goel A. A RNA-Sequencing approach for the identification of novel long non-coding RNA biomarkers in colorectal cancer. Sci Rep. 2018 Jan 12;8(1):575. doi: 10.1038/s41598-017-18407-6.
Laboratory
Atsushi Yamada yatsushi@kuhp.kyoto-u.ac.jp
Taro Funakoshi tarofun@kuhp.kyoto-u.ac.jp