Associate Professor Sakamoto Ryota
"Field medicine" is a research field that attempts to reconsider the nature of disease and aging in relation to the natural environment and cultural background. How do people live, what kind of family and friends do they have, what kind of house do they live in, what kind of food do they eat, and what challenges do they face in their daily lives? In this course, we will examine health, disease, and living conditions in different natural ecological environments, histories, cultures, and social backgrounds from fieldwork-based perspectives, and seek ways to contribute to people's health and world peace by seeking medical treatment rooted in the places where people live.
Research and Education
Since 2004, the project has been conducted in Tosa Town, Kochi Prefecture, Japan, with the aim of promoting health and longevity, and has disseminated knowledge from various perspectives, including basic activities of daily living, cognitive function, depression, diabetes, arteriosclerosis, sleep, obstetric and gynecological diseases, dental diseases, nutrition, agricultural work, hobbies, and quality of life. Since 2010, he has been providing health checkups and follow-up services to the elderly living in the community at a Basic Health Unit in Khaling, Trashigang District, Bhutan, and from 2022, this activity will be implemented throughout Bhutan as one of the country's major programs. In addition to geriatrics, the company is also involved in healthcare in Bhutan, including the development of a base hospital and support for health assistants and Village Health Workers. Triggered by a patient with Legionnaires' disease who was transferred to the emergency room after a traffic accident, studies on the habitat of Legionella bacteria, its relationship with climate, and the cultural and historical aspects of Legionnaires' disease have been conducted. When we consider the cause of the illness of a single patient in front of us and measures for prevention and treatment, there are many factors behind the illness, and solutions are often not possible if we remain within the framework of medicine. In this course, we will pursue these questions by focusing on the questions that come up from within while attending to the suffering of people in the field.
Recent Publications
Sakamoto R. Health and ageing in Bhutan: how can we build a sustainable healthcare system for senior citizens? In "Life, illness, and death in contemporary South Asia living through the age of hope and precariousness" Eds. by Matsuo M, Nakamura S, Funahashi K. p151-168. Routledge 2023. (ISBN: 9781032327440)
Ueno Y, et al. Periodontal status is associated with oral function in community-dwelling older adults, independent of dentition status. Journal of Periodontal Research 2022; 57: 1139-1147.
Wada T, et al. Older adults' preferences for and actual situations of artificial hydration and nutrition in end-of-life care: An 11-year follow-up study in a care home. Geriatrics & Gerontology International 2022; 22: 581-587.
Kato E, et al. Gynecological aspects as a component of comprehensive geriatric assessment: a study of self-rated symptoms of pelvic organ prolapse among community-dwelling elderly women in Japan. Maturitas 2022; 157: 34-39.
Yamada C, et al. Relapse prevention group therapy via video-conferencing for substance use disorder: protocol for a multicentre randomised controlled trial in Indonesia. BMJ Open 2021; 11: e050259.-e0502594.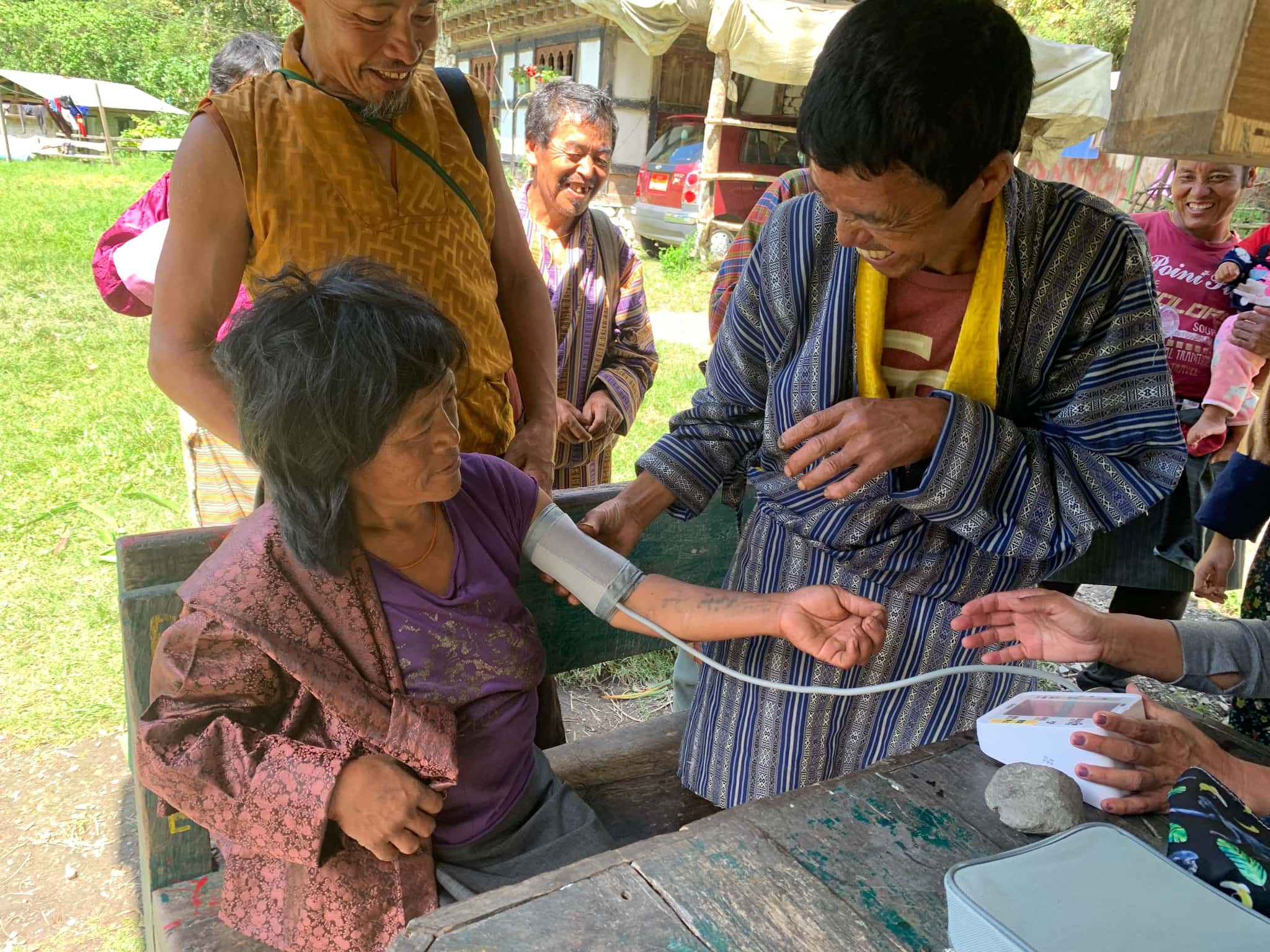 Blood pressure measurement in Jeri Village, Trashigang, Kingdom of Bhutan (September, 2022)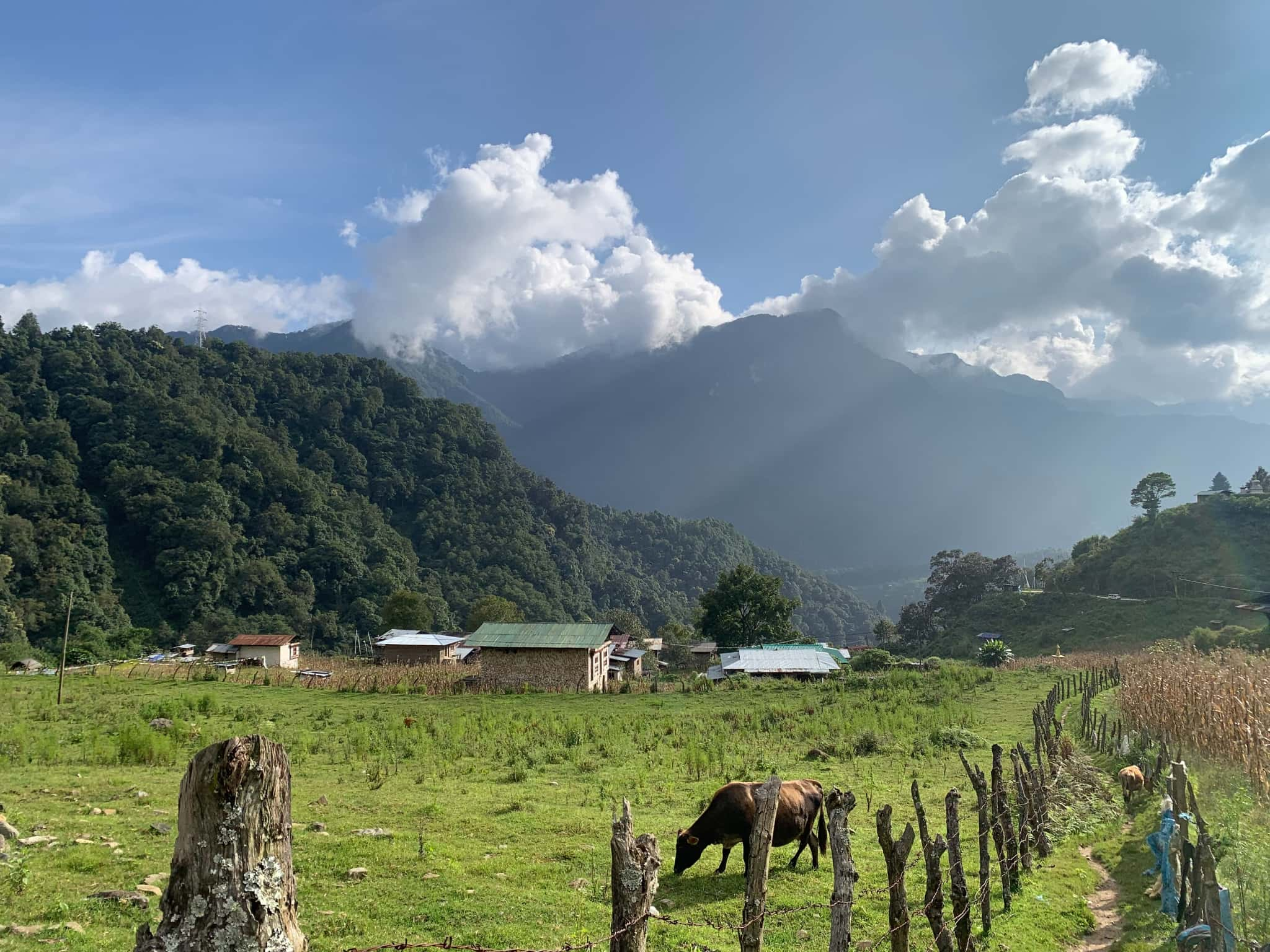 Scenery of Jeri Village, Trashigang, Kingdom of Bhutan (September, 2022)
Laboratory
Sakamoto Ryota
TEL : +81-75-753-7368
FAX : +81-75-753-7168
e-mail : sakamoto65@cseas.kyoto-u.ac.jp
URL : https://kyoto.cseas.kyoto-u.ac.jp/staff/sakamoto-ryota/
https://researchmap.jp/sakamotoryota