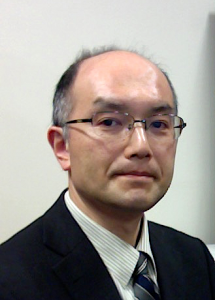 M.D. Professor Hironori Haga
Diagnostic pathology is a medical specialty aiming the diagnosis of diseases, based mainly on light microscopic examination of tissues or cells. Although most of our study focuses on histomorphology based on formalin-fixed, paraffin-embedded tissues, it always needs integration of molecular tests and clinicopathologic correlation. Techniques of immunohistochemistry and in situ hybridization are rapidly improving and allowing us to understand the mechanisms of diseases and to decide how to treat the patients.
Research and Education
Current research fields include 1) lung cancer, 2) pathology of signal transduction, and other clinicopathologic studies of various organs. We have contributed to validation of the current WHO classification of lung adenocarcinoma; Elucidation of roles of inhibitory receptors in tumor cells is another theme of our study and can be closely related to treatment of the patients. For clinicopathologic studies, in-house diagnostic database, image analysis using virtual microscopy, and tissue microarray technique are also available.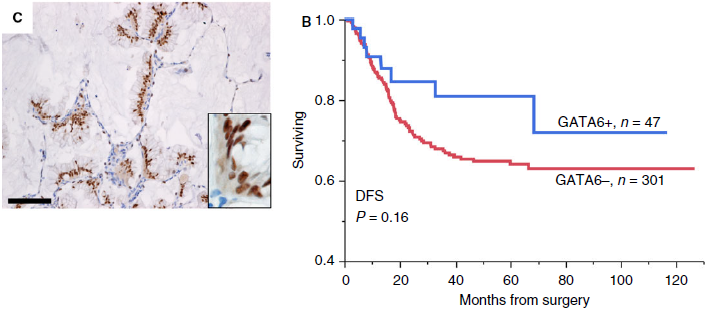 1:Expression of GATA-binding factor 6 (GATA6) and prognosis of lung cancer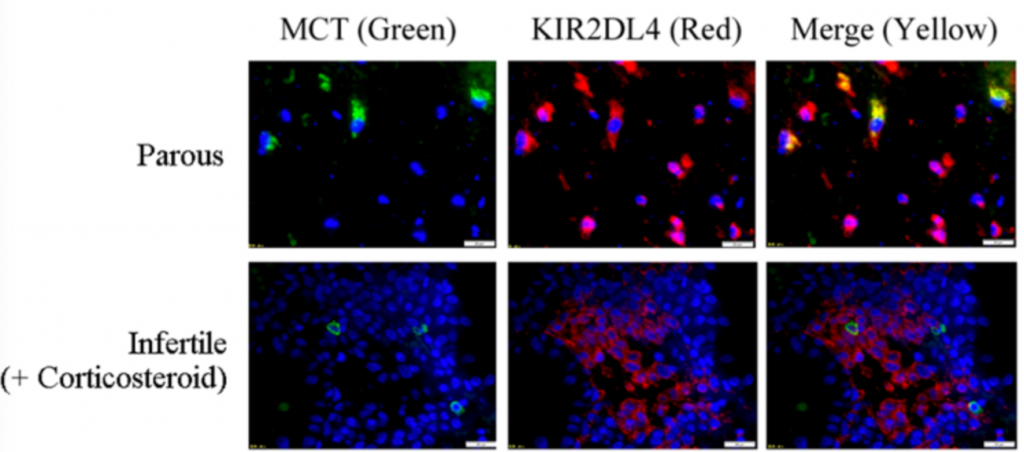 2:Loss of killer immunoglobulin-like receptor (KIR) 2DL4 in the placenta is associated with infertility

3:Construction of decision tree for diagnosis of pancreatic lesions in needle aspiration specimens
Recent Publications
Yamada Y, Simon R, Iwane K, Nakanishi Y, Takeuchi Y, Yoshizawa A, Takada M, Toi M, Haga H, Marx A, Sauter G. An exploratory study for tuft cells in the breast and their relevance in triple-negative breast cancer: the possible relationship of SOX9. BMC Cancer. 2023;23:438.
Fujimoto M, Miyake T, Kaku Y, Hirata M, Kabashima K, Haga H. Cutaneous arteritis with intimal fibrin ring and immature myeloid cell infiltrate: lymphocytic thrombophilic arteritis or histiocytoid polyarteritis nodosa? Virchows Arch. 2023 Mar 24. Online ahead of print.
Yamada Y, Belharazem-Vitacolonnna D, Bohnenberger H, Weiß C, Matsui N, Kriegsmann M, Kriegsmann K, Sinn P, Simon-Keller K, Hamilton G, Graeter T, Preissler G, Ott G, Schölch S, Nakajima N, Yoshizawa A, Haga H, Date H, Thomas RK, Petrini I, Giaccone G, Ströbel P, Marx A. Pulmonary cancers across different histotypes share hybrid tuft cell/ionocyte-like molecular features and potentially druggable vulnerabilities. Cell Death Dis. 2022;13:979.
Hirata M, Kogame T, Adachi S, Haga H. Galactosidase-catalyzed fluorescence amplification method (GAFAM): sensitive fluorescent immunohistochemistry using novel fluorogenic β-galactosidase substrates and its application in multiplex immunostaining. Histochem Cell Biol. 2023;159:233-246.
Terada K, Yoshizawa A, Sumiyoshi S, Rokutan-Kurata M, Nakajima N, Hamaji M, Sonobe M, Menju T, Date H, Haga H. Clinicopathologic features of cytokeratin 5-positive pulmonary adenocarcinoma.Histopathology. 2023;82:439-453.
Laboratory
Professor Hironori Haga
Associate professor Sachiko Minamiguchi
Lecturer Masakazu Fujimoto, Yosuke Yamada
Assistant professor Yasuhide Takeuchi,Yuki Teramoto,Hiroaki Ito
TEL +81-75-751-4946
FAX +81-75-751-4948
e-mail pathology@kuhp.kyoto-u.ac.jp
URL https://byori.kuhp.kyoto-u.ac.jp