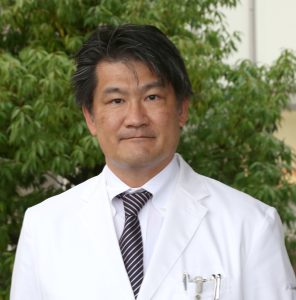 M.D., Ph.D. Professor Takashi Kobayashi
We have been dedicated to the development of novel treatment strategies and technologies in the fields of malignant diseases (prostatic cancer, renal cancer, urinary epithelial cancer, testicular cancer, etc.), kidney transplantation, and minimally invasive surgeries.
Through the close collaboration with our high-volume clinical department and basic research department, we conduct both translational researches on clinically unmet needs and biological researches on fundamental life science. in a well-balanced manner. We believe that this approach enables us to develop highly trained urological professionals who harbor the scientific and academic perspectives, which are essential abilities for Surgeon-scientists.
Research and Education
About 15 graduate students are engaged in our research laboratory at the Department of Urology, Kyoto University Graduate School of Medicine. Our research themes cover a wide range of topics such as uro-oncology, kidney transplantation, surgical techniques, and physiology of the urinary tract. We have been trying to elucidate the clinical questions and molecular mechanisms in these research fields using novel technologies such as next-generation sequencing, cell analysis, mouse models, and computer science. One of our strengths is that we have abundant clinical specimens (blood, urine, tumor tissue, etc.) obtained with the cooperation of patients at University Hospital and affiliated hospitals. Particularly, research using patient-derived xenograft (PDX) is one of the world's leading fields in our department with a number of publications of original research and review articles. Although we are aware that research does not always work as we expected and can sometimes be painful, we are engaged in daily research with the motto of sharing the joy of revealing formerly unpreceded problems by original ingenuity.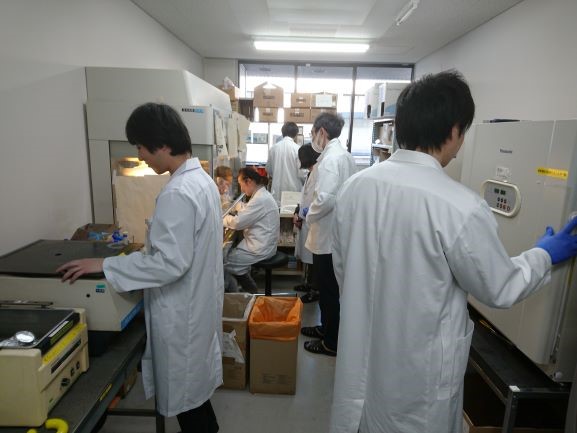 Experiment using urological cancer cell lines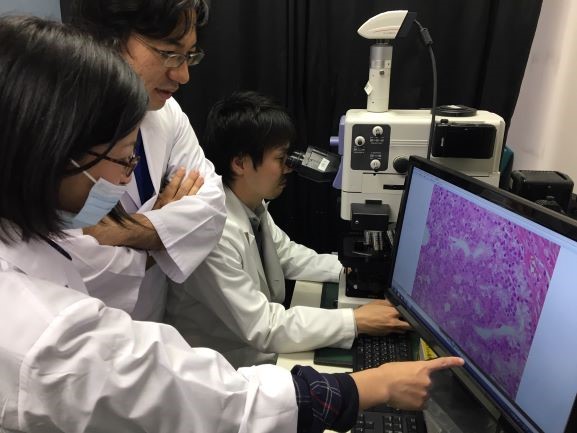 Basic research using clinical materials
Recent Publications
Mizuno K, Sumiyoshi T, Okegawa T, Terada N, Ishitoya S, Miyazaki Y, Kojima T, Katayama H, Fujimoto N, Hatakeyama S, Shiota M, Yoshimura K, Matsui Y, Narita S, Matsumoto H, Kurahashi R, Kanno H, Ito K, Kimura H, Kamiyama Y, Sunada T, Goto T, Kobayashi T, Yamada H, Tsuchiya N, Kamba T, Matsuyama H, Habuchi T, Eto M, Ohyama C, Ito A, Nishiyama H, Okuno H, Kamoto T, Fujimoto A, Ogawa O, Akamatsu S. Clinical Impact of Detecting Low-Frequency Variants in Cell-Free DNA on Treatment of Castration-Resistant Prostate Cancer. Clin Cancer Res. 2021 Nov 15;27(22):6164-6173. doi: 10.1158/1078-0432.CCR-21-2328. Epub 2021 Sep 15. PMID: 34526361
Murakami K, Kita Y, Sakatani T, Hamada A, Mizuno K, Nakamura K, Takada H, Matsumoto K, Sano T, Goto T, Akamatsu S, Saito R, Tsuruyama T, Ogawa O, Kobayashi T. Antitumor effect of WEE1 blockade as monotherapy or in combination with cisplatin in urothelial cancer. Cancer Sci. 2021 Sep;112(9):3669-3681. doi: 10.1111/cas.15051. Epub 2021 Jul 29. PMID: 34212455 Free PMC article.
Okasho K, Mizuno K, Fukui T, Lin YY, Kamiyama Y, Sunada T, Li X, Kimura H, Sumiyoshi T, Goto T, Kobayashi T, Lin D, Wang Y, Collins CC, Inoue T, Ogawa O, Akamatsu S. Establishment and characterization of a novel treatment-related neuroendocrine prostate cancer cell line KUCaP13. Cancer Sci. 2021 Jul;112(7):2781-2791. doi: 10.1111/cas.14935. Epub 2021 Jun 1. PMID: 33960594 Free PMC article.
Masuda N, Murakami K, Kita Y, Hamada A, Kamada M, Teramoto Y, Sakatani T, Matsumoto K, Sano T, Saito R, Okuno Y, Ogawa O, Kobayashi T. Trp53 Mutation in Keratin 5 (Krt5)-Expressing Basal Cells Facilitates the Development of Basal Squamous-Like Invasive Bladder Cancer in the Chemical Carcinogenesis of Mouse Bladder. Am J Pathol. 2020 Aug;190(8):1752-1762. doi: 10.1016/j.ajpath.2020.04.005. Epub 2020 Apr 24. PMID: 32339497 Free article.
Kita Y, Hamada A, Saito R, Teramoto Y, Tanaka R, Takano K, Nakayama K, Murakami K, Matsumoto K, Akamatsu S, Yamasaki T, Inoue T, Tabata Y, Okuno Y, Ogawa O, Kobayashi T. Systematic chemical screening identifies disulfiram as a repurposed drug that enhances sensitivity to cisplatin in bladder cancer: a summary of preclinical studies. Br J Cancer. 2019 Dec;121(12):1027-1038. doi: 10.1038/s41416-019-0609-0. Epub 2019 Nov 1. PMID: 31673101 Free PMC article.
Laboratory
Professor: Takashi Kobayashi
Associate Professor: Shusuke Akamatsu
Senior Lecturer: Atsuro Sawada・Takayuki Goto
Assistant Professor: Takeshi Sano・Kimihiko Masui・Yuki Kita・Takayuki Sumiyoshi・Jin Kono・Takashi Matsuoka
TEL:+81-75-751-3325
FAX:+81-75-761-3441
e-mail:uro*kuhp.kyoto-u.ac.jp Please change * to @ and send us an email.
URL:http://www.urology.kuhp.kyoto-u.ac.jp/