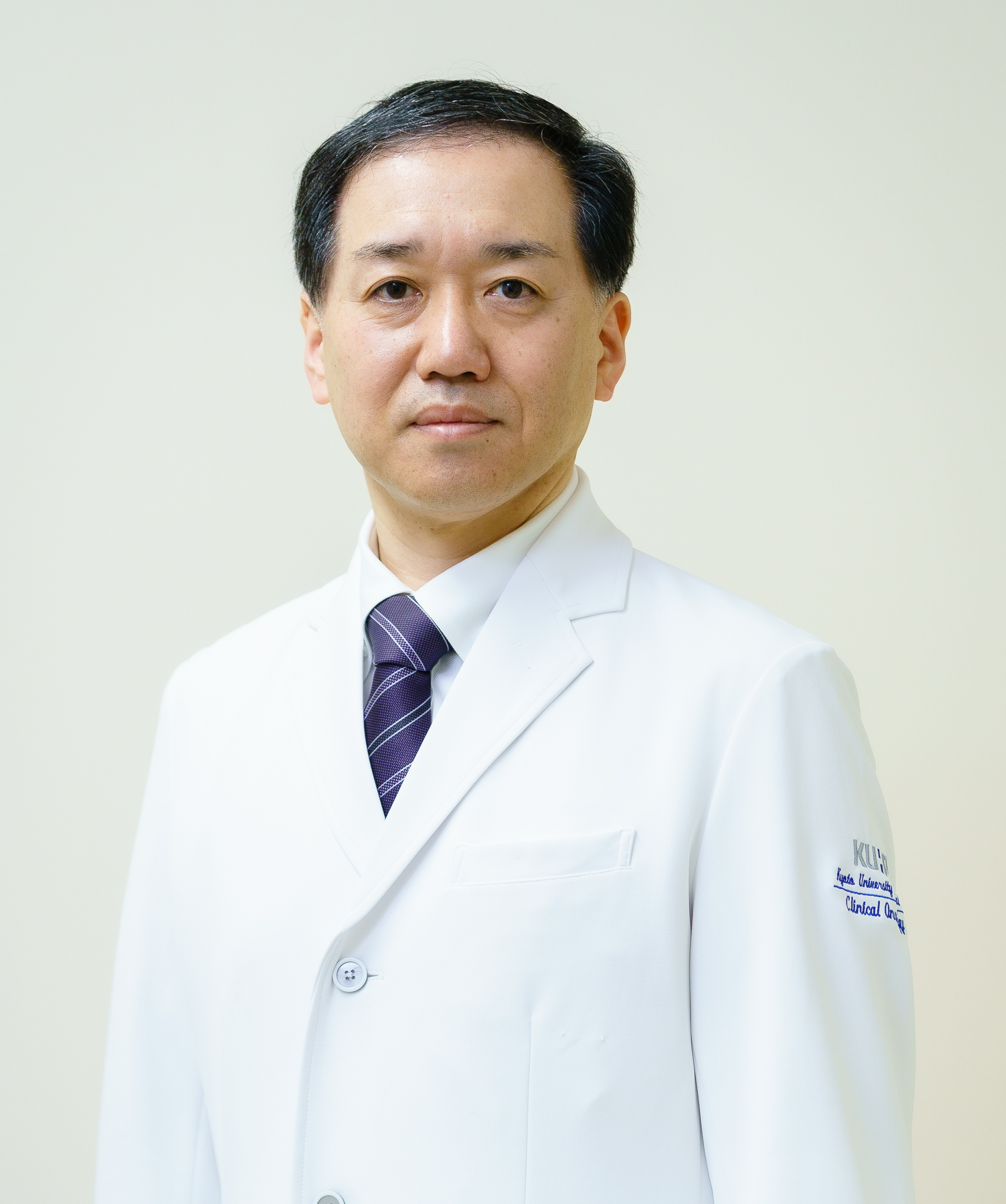 M.D., Ph.D. Professor Manabu Muto
This department was founded in September 2012 as the main department of the "Kyoto University Hospital Cancer Center" established in 2007 for the first time among national and public universities. We support the functional management of the Cancer Center in the academia and promote the following tasks: 1) specialized and cutting-edge oncology practice and education including precision medicine, 2) practice of clinical research and education, 3) basic oncology research, 4) translational oncology applying basic research for clinical practice, and 5) clinical bio-resource projects leading to development of the next-generation medical care.
Research and Education
In this course, cancer research has been advanced from elucidating carcinogenic mechanisms to developing early diagnostic methods, new treatment, and clinical application of precision medicine. The course is particularly aimed at elucidating the molecular-level carcinogenic mechanism of esophageal squamous cell carcinoma by alcohol and developing preventive methods. New diagnostic methods using exhaled breath and near-infrared light have been developed. New concepts-based curative cancer treatment has been developed in investigator-initiated trials. Supportive treatment to prevent organ injury by anticancer drugs and chemotherapy for patients with renal dysfunction have been developed with other departments (e.g., Nephrology, Pharmacology). Furthermore, translational researches contributing to the early approval of seeds developed by basic research departments have been projected, while clinical studies utilizing the National Database (NDB) have been advanced with social medicine courses as well as medical information sections. Graduate school students and junior residents can select suitable fields and receive specialized education. Moreover, graduate school students in "the training course to be specialized researchers who develop next-generation anticancer drugs" in the cancer professional training basic arrangement plan have actively been accepted.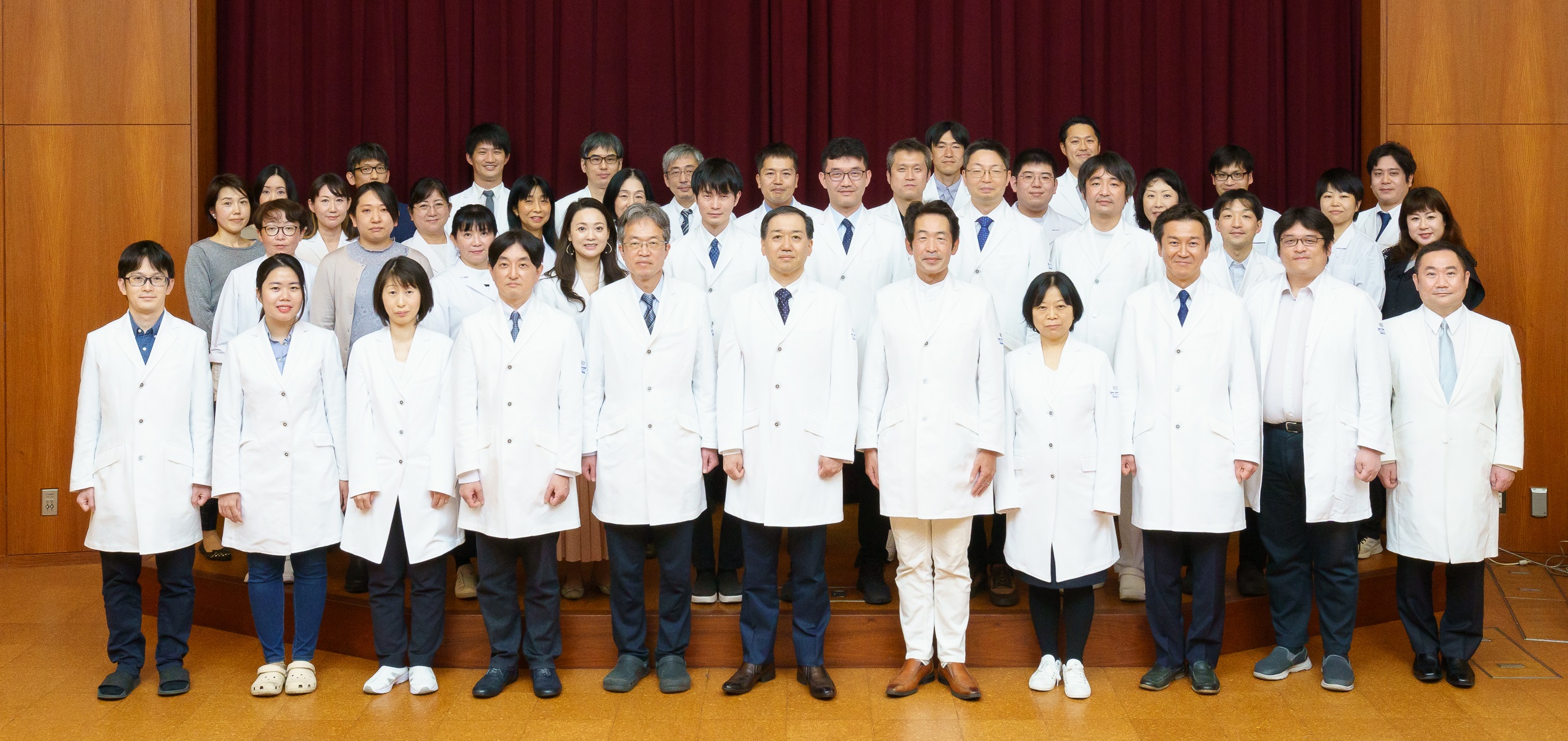 Group photo of classroom members
Recent Publications
Yamada, A., Matsuoka, Y., Minamiguchi, S., Yamamoto, Y., Kondo, T., Sunami, T., Horimatsu, T., Kawada, K., Seno, H., Torishima, M., Murakami, H., Yamada, T., Kosugi, S., Sugano, K., & Muto, M. (2021). Real-world outcome of universal screening for Lynch syndrome in Japanese patients with colorectal cancer highlights the importance of targeting patients with young-onset disease. Molecular and clinical oncology, 15(6), 247.
Kanai, M., Kawaguchi, T., Kotaka, M., Manaka, D., Hasegawa, J., Takagane, A., Munemoto, Y., Kato, T., Eto, T., Touyama, T., Matsui, T., Shinozaki, K., Matsumoto, S., Mizushima, T., Mori, M., Sakamoto, J., Ohtsu, A., Yoshino, T., Saji, S., & Matsuda, F. (2021). Large-scale prospective genome-wide association study of oxaliplatin in stage II/III colon cancer and neuropathy. Annals of oncology : official journal of the European Society for Medical Oncology, 32(11), 1434?1441
Nomura, M., Nagatomo, R., Doi, K., Shimizu, J., Baba, K., Saito, T., Matsumoto, S., Inoue, K., & Muto, M. (2020). Association of Short-Chain Fatty Acids in the Gut Microbiome With Clinical Response to Treatment With Nivolumab or Pembrolizumab in Patients With Solid Cancer Tumors. JAMA network open, 3(4), e202895.
Ohashi, S., Kikuchi, O., Nakai, Y., Ida, T., Saito, T., Kondo, Y., Yamamoto, Y., Mitani, Y., Nguyen Vu, T. H., Fukuyama, K., Tsukihara, H., Suzuki, N., & Muto, M. (2020). Synthetic Lethality with Trifluridine/Tipiracil and Checkpoint Kinase 1 Inhibitor for Esophageal Squamous Cell Carcinoma. Molecular cancer therapeutics, 19(6), 1363?1372.
Yokoyama, A., Kakiuchi, N., Yoshizato, T., Nannya, Y., Suzuki, H., Takeuchi, Y., Shiozawa, Y., Sato, Y., Aoki, K., Kim, S. K., Fujii, Y., Yoshida, K., Kataoka, K., Nakagawa, M. M., Inoue, Y., Hirano, T., Shiraishi, Y., Chiba, K., Tanaka, H., Sanada, M., … Ogawa, S. (2019). Age-related remodelling of oesophageal epithelia by mutated cancer drivers. Nature, 565(7739), 312?317.
Laboratory
Professor: Manabu Muto
Program-Specific Professor: Shigemi Matsumoto
Associate Professor: Masashi Kanai
Program-Specific Associate Professor: Shinya Ohashi, Atsushi Yamada
Lecturer: Junichi Matsubara
Program-Specific Lecturer: Yukiko Mori, Chikatoshi Katada, Takahiro Horimatsu
Assistant Professor: Akira Yokoyama, Osamu Kikuchi
Specific hospital Assistant Professor: Masahiro Yoshioka, Yuichi Sakamori, Takeshi Kotake
TEL : +81-75-751-4592
FAX : +81-75-751-4594
e-mail : clinonc10thanniv@kuhp.kyoto-u.ac.jp
URL : http://oncology.kuhp.kyoto-u.ac.jp