The Department of Diabetes, Endocrinology and Nutrition contributes to the advancement of diabetology, endocrinology, and nutrition science. Advanced basic research on diabetes and endocrine diseases is conducted using leading-edge technologies in order to better understand the various pathological conditions and to discover novel therapeutic approaches. We also take the initiative in promoting clinical research, epidemiological studies, and patient education for improved treatment outcomes. The nutritional approach is employed to address serious social matters such as obesity, metabolic syndrome, dementia, and frailty. Our diverse experience provides young medical doctors an opportunity to become highly trained physicians.
Research and Education
We are investigating 1) islet biology, 2) mechanism of incretin secretion from enteroendocrine cells and incretin action in various organs, 3) genetic investigation of young-onset and familial clustered diabetes, 4) novel therapeutic approaches to obesity and diabetes using brown adipose tissue, 5) generation of endocrine organs including insulin-producing cells and vascular endothelium from iPS cells, 6) non-invasive imaging of pancreatic β-cell and adrenal gland, 7) basic research for disorders in pituitary-adrenal system, thyroid gland and bone metabolism, and 8) clinical research for diabetes, obesity, endocrine diseases, and nutrition. The approach ranges from clinical to basic, and the research scale varies from pioneering small-scale study to large-scale research funded by Health and Labor Sciences Research Grant. All the teaching staffs discuss with, advice, and encourage students and instruct the practical techniques required to carry out the experiments. In addition, we work at upbringing of the experts in diabetology and endocrinology who can provide high quality treatment with a broad perspective that transcends any narrow specialization.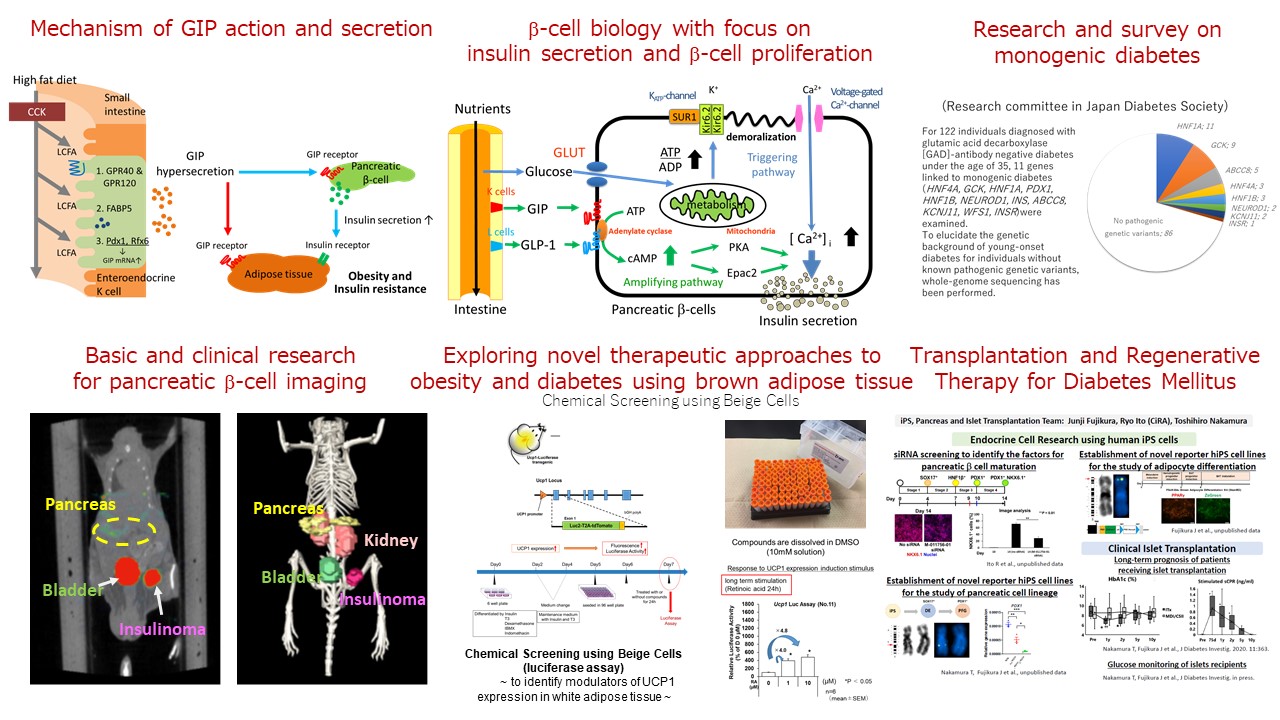 Ⅰ.Research projects in diabetes and metabolic disorders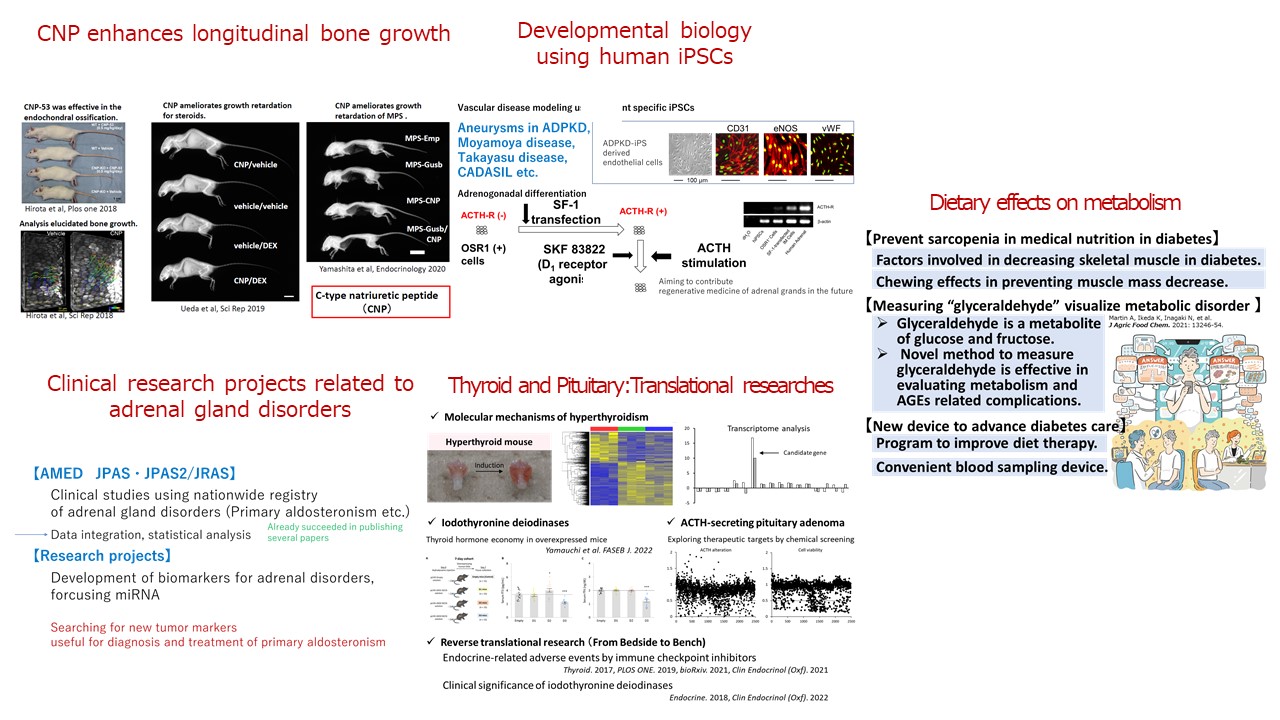 Ⅱ.Research projects in endocrine disorders and clinical nutrition
Recent Publications
Furuya F, Fujita Y, Matsuo N, Minamino H, Oguri Y, Isomura N, Ikeda K, Takesue K, Li Y, Kondo A, Mano F, Inagaki N. Liver autophagy-induced valine and leucine in plasma reflect the metabolic effect of sodium glucose co-transporter 2 inhibitor dapagliflozin. EBioMedicine 2022 Dec;86:10434210.1016/j.ebiom.2022.104342. PMID: 36423374.
Yoshiji S, Minamino H, Tanaka D, Yamane S, Harada N, Inagaki N Effects of glucagon-like peptide-1 receptor agonists on cardiovascular and renal outcomes: A meta-analysis and meta-regression analysis. Diabetes Obes Metab 2022 Jun;24(6):1029-1037 10.1111/dom.14666. PMID: 35137511.
Yamauchi I, Sakane Y, Okuno Y, Sugawa T, Hakata T, Fujita H, Okamoto K, Taura D, Yamashita T, Hirota K, Ueda Y, Fujii T, Yasoda A, Inagaki N. High-throughput Screening in Combination With a Cohort Study for Iodothyronine Deiodinases. Endocrinology 2022 Aug 1;163(8):bqac090. doi: 10.1210/endocr/bqac090. PMID: 35695766.
Yasuda T, Harada N, Hatoko T, Ichimura A, Ikeguchi-Ogura E, Murata Y, Wada N, Kiyobayashi S, Yamane S, Hirasawa A, Inagaki N. Inhibition of GPR120 signaling in intestine ameliorates insulin resistance and fatty liver under high-fat diet feeding. Am J Physiol Endocrinol Metab 2023 May 1;324(5):E449-E460. doi: 10.1152/ajpendo.00329.2022. Epub 2023 Apr 19. PMID: 37074989
Botagarova A, Murakami T, Fujimoto H, Fauzi M, Kiyobayashi S, Otani D, Fujimoto N, Inagaki N.Noninvasive quantitative evaluation of viable islet grafts using 111 In-exendin-4 SPECT/CT. FASEB J 2023 Apr;37(4):e22859. doi: 10.1096/fj.202201787RR. PMID: 36906290.
Laboratory
Associate Professor : Norio Harada Lecturer:Daisuke Taura, Yoshihito Fujita, Kaori Ikeda (Department of Clinical Research Support, iACT, Kyoto University Hospital)
Special Appointment Lecturer (Hospital) : Junji Fujikura
Assistant professor: Daisuke Tanaka, Hisahito Fujii, Masahito Ogura, Shunsuke Yamane, Ichiro Yamauchi, Yohei Ueda, Takaaki Murakami, Hiroyuki Fujimoto (Radioisotope Research Center, Agency for Health, Safety and Environment, Kyoto University)
Program-Specific Professor (Preemptive Medicine and Lifestyle. Disease Research Center): Mayumi Inoue
Program-Specific Assistant Professor (Preemptive Medicine and Lifestyle. Disease Research Center): Tomoko Kuwahara, Makiko Tatsumi, Sachiko Kawashima
TEL:+81-75-751-3560
FAX:+81-75-751-4244
e-mail:tounaiei@kuhp.kyoto-u.ac.jp
URL:http://metab-kyoto-u.jp/