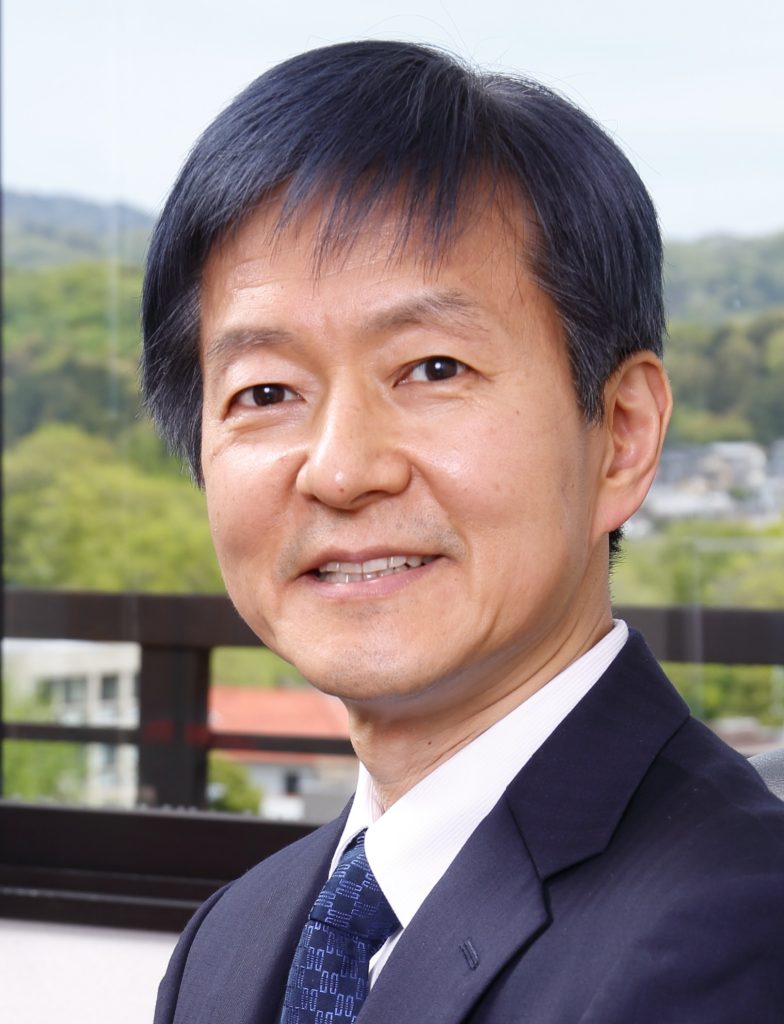 M.D., Ph.D. Professor Toyohiro Hirai
Respiratory diseases have marked variability such as obstructive airway diseases, interstitial lung diseases, thoracic malignancy, respiratory infection, sleep disorders and respiratory insufficiency. We are energetically engaged in the study of all these diseases. In the 21st century, the concept "physiome", which means that the integration of the achievement of molecular-cell biology form the view point of organ biology, will be more important. We hope we can create a new world of respiratory medicine based on "physiome".
Research and Education
Our clinical, educational and research activities are performed on six categories; airway disease, interstitial pulmonary disease, lung cancer, respiratory infectious diseases, translational study, and iPS cells.
Airway disease
We are conducting cohort- and registry-based imaging analysis, analysis and investigation of inflammation, pathogenic factors, treatment and management of COPD, asthma and cough.
Interstitial lung diseases (interstitial pneumonia and sarcoidosis)
The mechanisms of pulmonary fibrosis are investigated from the view point of genetics, molecular biology and morphology.
Thoracic malignancy (lung cancer, mediastinal tumor, mesothelioma)
Clinical trials for lung cancer are now underway. The mechanism of drug resistance is also investigated.
Respiratory infectious diseases
We focus on clinical and bacteriological researches in community-acquired pneumonia, mycobacterial infection, and COVID-19 by co-operation with teaching hospitals related to Kyoto University.
Translational study
Pulmonary disease pathogenesis and drug discovery using animal models and molecular science techniques.
Lung iPS
We expand human iPS cell-based technologies to interdisciplinary lung research on the cutting edge of novel humanized disease models as wells as lung regeneration studies.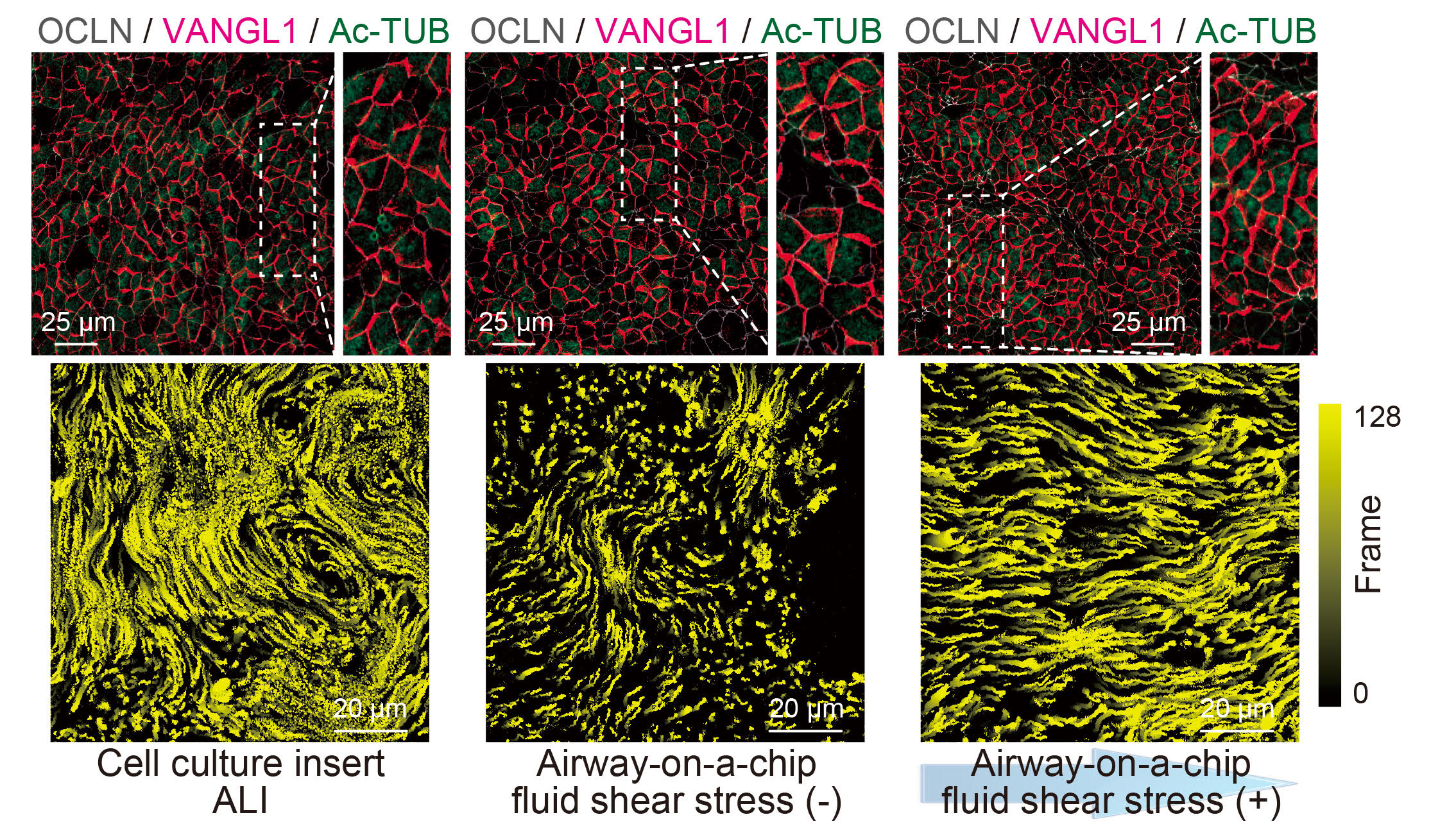 1. Combination of human iPS cells and airway-on-a-chip technology revealed fluid shear stress could regulate multicellular planar cell polarity (upper row) and accomplish unidirectional muco-ciliary flow (lower row).
Sone N, et al. Multicellular modeling of ciliopathy by combining iPS cells and microfluidic airway-on-a-chip technology. Sci Transl Med. 2021;13 (601), eabb1298.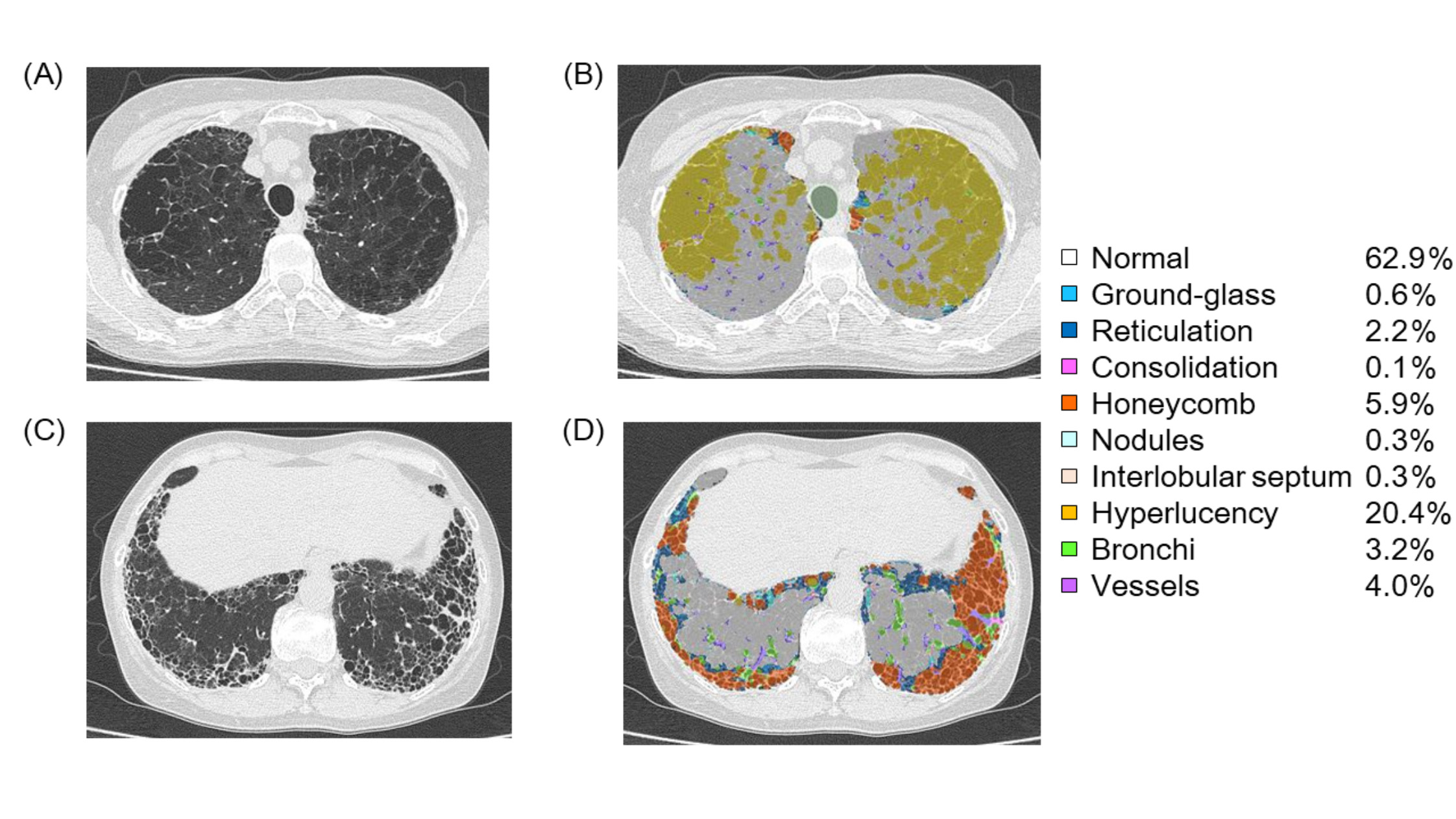 2. Visualization and quantification of lung parenchymal lesions using the artificial intelligence-based quantitative CT (AIQCT) system.
Handa T, et al. Novel Artificial Intelligence-based Technology for Chest Computed Tomography Analysis of Idiopathic Pulmonary Fibrosis. Ann Am Thorac Soc. 2022;19(3):399-406.
Recent Publications
Hamakawa Y, Tanabe N, Shima H, Terada K, Shiraishi Y, Maetani T, Kubo T, Kozawa S, Koizumi K, Kanezaki M, Shimizu K, Oguma T, Sato A, Sato S, Hirai T. Associations of pulmonary and extrapulmonary computed tomographic manifestations with impaired physical activity in symptomatic patients with chronic obstructive pulmonary disease. Sci Rep. 2022 Apr 4;12(1):5608.
Tsuji T, Ozasa H, Aoki W, Aburaya S, Yamamoto Fenazo T, Furugaki K, Yoshimura Y, Yamazoe M, Ajimizu H, Yasuda Y, Nomizo T, Yoshida H, Sakamori Y, Wake H, Ueda M, Kim YH, Hirai T. YAP1 mediates survival of ALK-rearranged lung cancer cells treated with alectinib via pro-apoptotic protein regulation. Nat Commun. 2020 Jan 3;11(1):74.
Oi I, Ito I, Hirabayashi M, Endo K, Emura M, Kojima T, Tsukao H, Tomii K, Nakagawa A, Otsuka K, Akai M, Oi M, Sugita T, Fukui M, Inoue D, Hasegawa Y, Takahashi K, Yasui H, Fujita K, Ishida T, Ito A, Kita H, Kaji Y, Tsuchiya M, Tomioka H, Yamada T, Terada S, Nakaji H, Hamao H, Shirata M, Nishioka K, Yamazoe M, Shiraishi Y, Ogimoto T, Hosoya K, Ajimizu H, Shima H, Matsumoto H, Tanabe N, Hirai T. Pneumonia caused by severe acute respiratory syndrome coronavirus 2 and influenza virus: A multicenter comparative study. Open Forum Infect Dis. 2021;8:ofab282.
Tanabe N, Kaji S, Sato S, Yokoyama T, Oguma T, Tanizawa K, Handa T, Sakajo T, Hirai T. A homological approach to a mathematical definition of pulmonary fibrosis and emphysema on computed tomography. J Appl Physiol (1985). 2021 Aug 1;131(2):601-612.
Uemasu K, Tanabe N, Tanimura K, Hasegawa K, Mizutani T, Hamakawa Y, Sato S, Ogawa E, Thomas MJ, Ikegami M, Muro S, Hirai T, Sato A. Serine Protease Imbalance in the Small Airways and Development of Centrilobular Emphysema in Chronic Obstructive Pulmonary Disease. Am J Respir Cell Mol Biol. 2020 Jul;63(1):67-78.
Laboratory
M.D., Ph.D. Professor: Toyohiro Hirai
Associate Professor: Isao Ito
Senior Lecturer: Atsuyasu Sato, Hiroaki Ozasa, Tomoko Kita
Assistant Professor:Tsuyoshi Oguma, Kiminobu Tanizawa, Naoya Tanabe, Seiichiro Imai, Kohei Ikezoe, Hironori Yoshida, Hitomi Ajimizu
TEL:+81-75-751-3830
FAX:+81-75-751-4643
e-mail:konai@kuhp.kyoto-u.ac.jp
URL:http://www.kukonai.com/