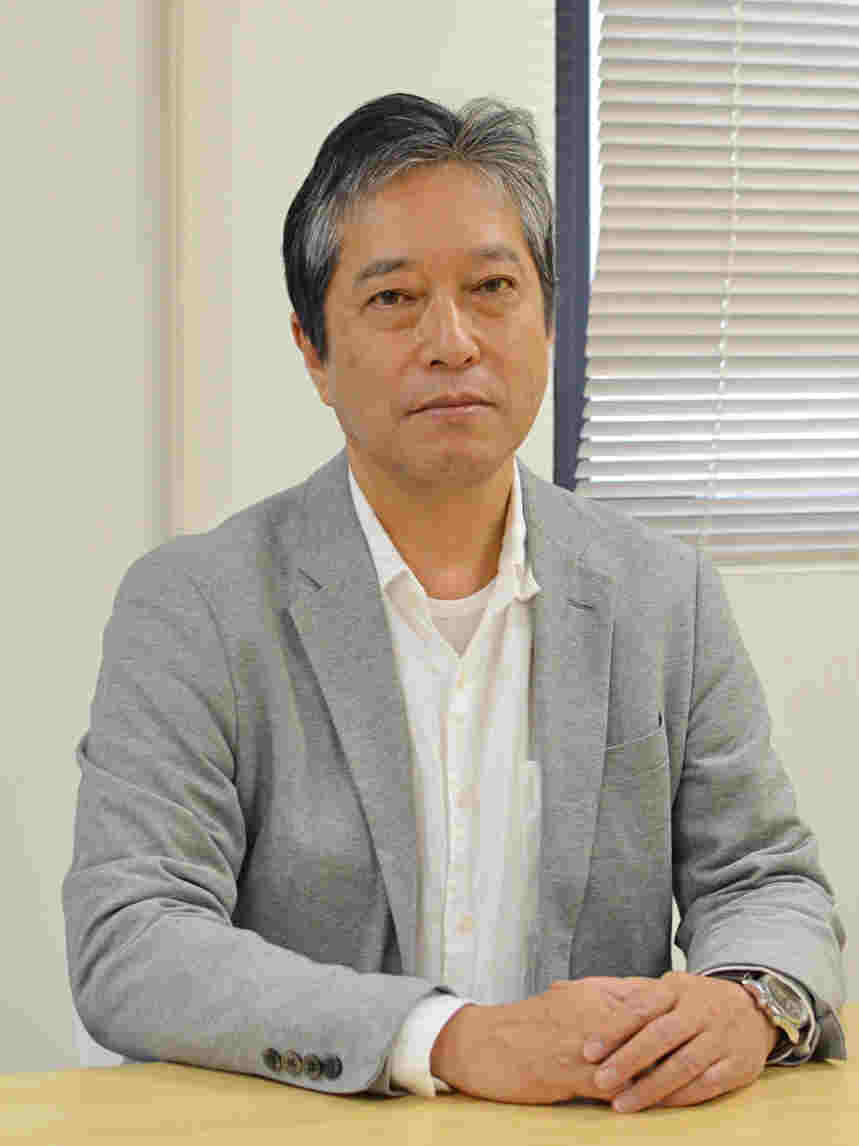 P.T., Ph.D. Professor NORIAKI ICHIHASHI
In the Development and Rehabilitation of Motor Function Laboratory, we aim to contribute to the development of rehabilitation and physical therapy through research. Human motion, from young to old, patients and athletes, are measured and analyzed using non-invasive equipment such as optical and magnetic motion capture systems, force plates, electromyography, and ultrasonic diagnostic equipment. Especially, by focusing on the mechanical properties of muscles and joints, and their relation with motor function, which is the most important part of physical therapy, we aim to develop effective methods of treatment and prevention.
Research and Education
We aim to develop an academic framework of physical therapy through education, research, and practice, and to restore patient function in multiple clinical situations. Physical therapists that have both the clinical ability to treat and the ability to investigate the effectiveness of their treatment are needed. Physical therapists and students who are interested in motor system rehabilitation are welcome to join us and work to develop new physical therapy strategies. The ongoing studies are as follows;
Research on the effects of stretching.
Development of effective therapeutic interventions for hip and knee OA.
Simulation study on muscle function and joint stress using musculoskeletal modeling
Development of neuromuscular-training program.
Longitudinal study of relationship between disease progression and kinematics in patients with hip and knee OA.
Electromyographic analysis of strength training.
Evaluation of muscle stiffness using ultrasonic elastography
Morphological study in muscles and joints using ultrasonography
Development of posture / motion evaluation system by algorithm using deep learning.
Research of age-related changes on physical fitness and muscle function
Research and development of physical function assessment and training program for elderly people
Elucidation of the relationship between body shape metrics and motor functions or muscle characteristics.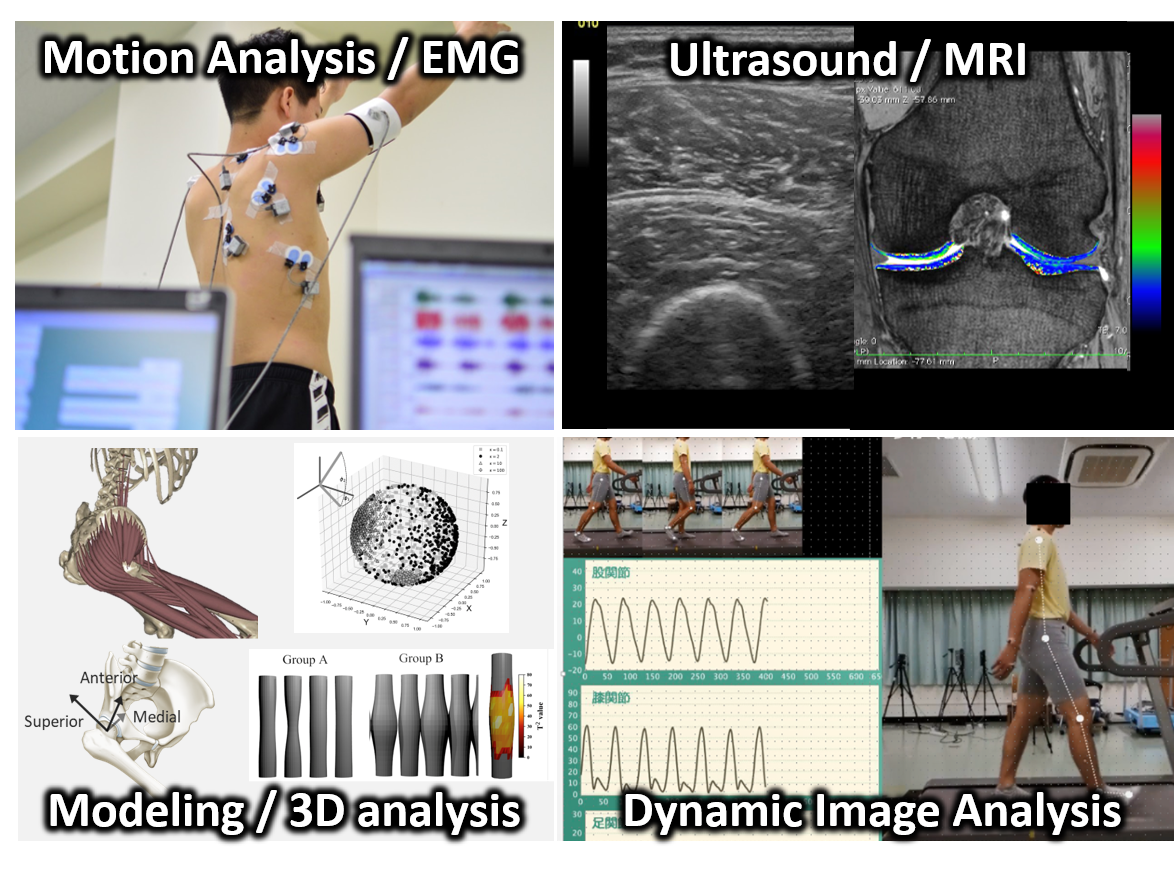 Inverse and forward dynamics analysis of gait
EMG analysis of neuromuscular coordination
Change of muscle stiffness during stretching
Measurement of 3-dimensional scapular movement during arm elevation
Recent Publications
Ichihashi N, Ikezoe T, Sato S, Ibuki S. Gait asymmetry assessment for older adults by measuring circular gait speed. Geriatr Gerontol Int. 2019 Aug;19(8):736-739. doi: 10.1111/ggi.13691.
Tateuchi H, Akiyama H, Goto K, So K, Kuroda Y, Ichihashi N. Strategies for increasing gait speed in patients with hip osteoarthritis: their clinical significance and effects on hip loading. Arthritis Res Ther. 2021 Apr 28;23(1):129. doi.org/10.1186/s13075-021-02514-x
Pataky TC, Robinson MA, Vanrenterghem J, Donnelly CJW (2022). Simultaneously assessing amplitude and temporal effects in biomechanical trajectories using nonlinear registration and statistical nonparametric mapping. Journal of Biomechanics 136: 111049.\ DOI: 10.1016/j.jbiomech.2022.111049.
Ota M, Tateuchi H, Hashiguchi T, Ichihashi N. Verification of validity of gait analysis systems during treadmill walking and running using human pose tracking algorithm. Gait Posture. 2021 Mar;85:290-297. doi: 10.1016/j.gaitpost.2021.02.006.
Taniguchi M, Ikezoe T, Masaki M, Kamitani T, Tsuboyama T, Ito H, Matsuda S, Tabara Y, Matsuda F, Ichihashi N, Nagahama Study Group. Coexistence of low back pain and lumbar kyphosis and the association with increased functional disability in knee osteoarthritis: Results from a population-based cohort. Arthritis Care Res (Hoboken). 2021 Feb 19. doi: 10.1002/acr.24580.
Laboratory
Professor : Noriaki Ichihashi
Associate Professor : Hiroshige Tateuchi
Associate Professor : Todd Pataky
Associate Professor : Megumi Ota
Assistant Proffesor : Masashi Taniguchi
Assistant Proffesor : Masahide Yagi
TEL:+81-75-751-3951
FAX:+81-75-751-3951
e-mail:ichihashi.noriaki.5z@kyoto-u.ac.jp