P.T., Ph.D. Professor Hiroshi Kuroki
Our laboratory investigates development of locomotorium and nervous system deficits and how therapeutic exercises and physical therapy modalities could address those issues. We use several animal models to perform multiple-aspect analysis.
We foster human resources who are able to propose novel rehabilitation regimens to clinical situations based on new evidences obtained from these studies. Moreover, in order to develop a field of regenerative rehabilitation, which is a novel and emerging wisdom, we cooperate with Kyoto University Hospital and Center for iPS Cell Research and Application (CiRA) etc.
Research and Education
Our laboratory is currently working on the following two research projects.
Study on effects of mechanical stimuli and exercises on tissue degeneration and regeneration. (Kuroki and Ito) To develop physical therapy for joint disorders such as osteoarthritis (Fig. 1A) and peripheral nerve injury (Fig. 1B), we are trying to clarify the therapeutic effects and its action mechanisms of exercises and physical therapy modalities using several animal models. In addition, we are developing a motor function analysis method for rodents by means of a three-dimensional motion analysis system that is applicable to clinical situations. (Fig. 1C).
Regenerative Rehabilitation research. (Kuroki and Ito)To keep up with recent development in regenerative medicine, it is urgent to establish relevant rehabilitation regimens. We work as a member of the international consortium for regenerative rehabilitation; in particular we work on basic research for articular cartilage, peripheral nerve, and central nervous system (Fig 2).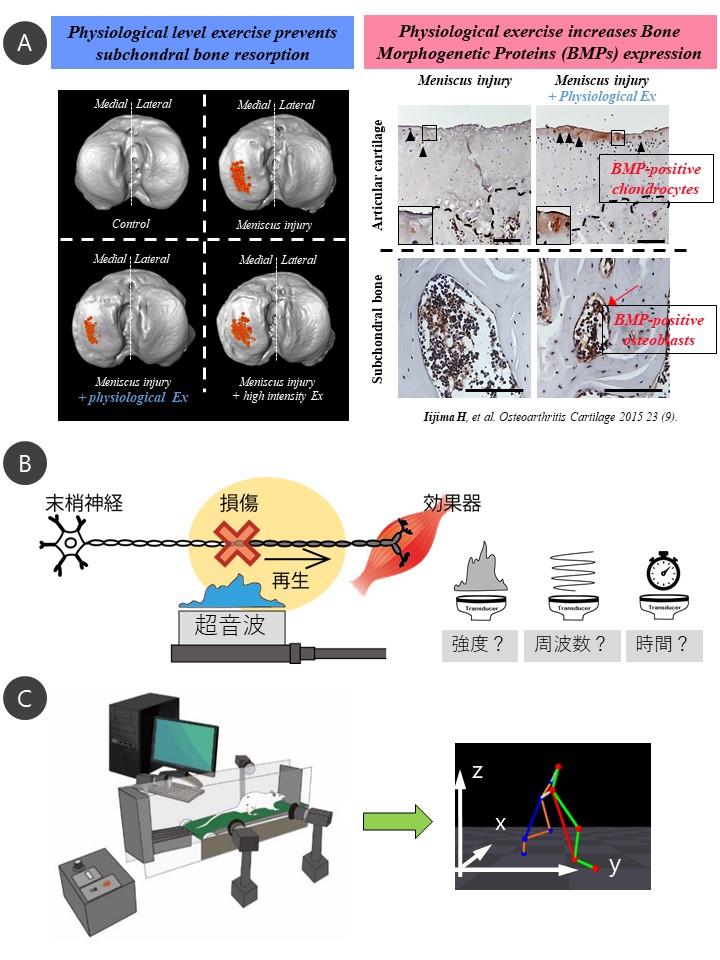 Figure 1A. Study of joint disorders
Figure 1B. Study of peripheral nerve injury
Figure 1C. Development of motor function analysis with a three-dimensional motion analysis for rodents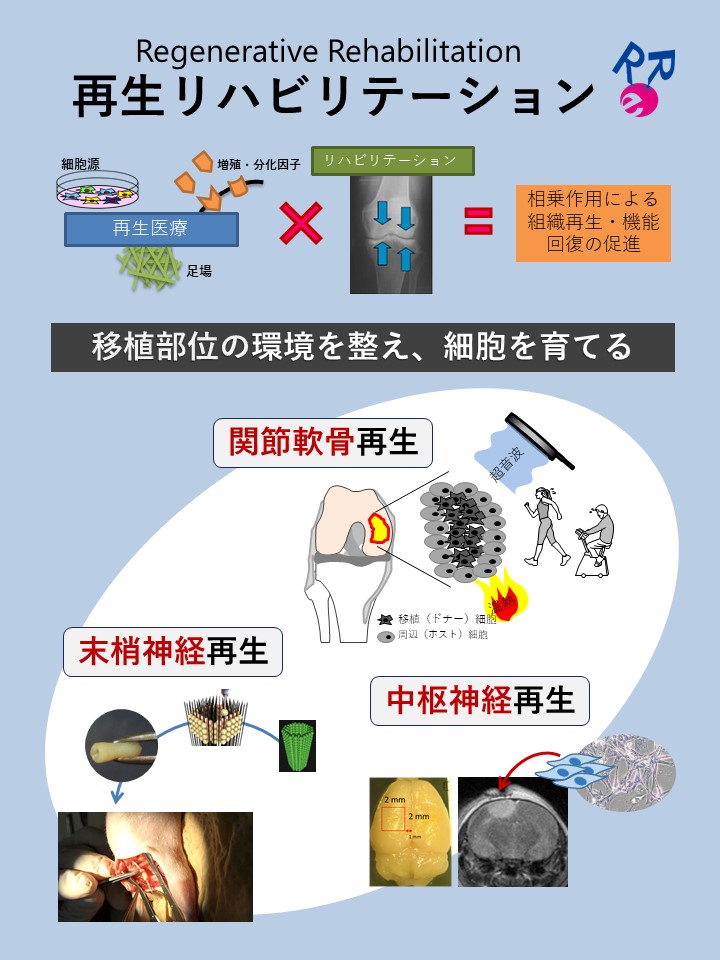 Figure 2. Regenerative Rehabilitation researches
Recent Publications
Iijima H, Gilmer G, Wang K, Bean AC, He Y, Lin H, Tang WY, Lamont D, Tai C, Ito A, Jones JJ, Evans C, Ambrosio F. Age-related matrix stiffening epigenetically regulates α-Klotho expression and compromises chondrocyte integrity. Nat Commun. 2023 Jan 10;14(1):18.
Zhao Z, Ito A, Nakahata A, Ji X, Tai C, Saito M, Nishitani K, Aoyama T, Kuroki H. One session of 20 N cyclic compression induces chronic knee osteoarthritis in rats: A long-term study. Osteoarthritis and Cartilage Open. 2022;4(4):100325.
Ito A, Araya Y, Kawai H, Kuroki H. Ultrasound Stimulation Inhibits Morphological Degeneration of Motor Endplates in the Denervated Skeletal Muscle of Rats. Neuroscience Insights. 2022;17.
Xu S, Ito A, Wang T, Kawai H, Aoyama T, Kuroki H. Ultrasound Therapy of Injury Site Modulates Gene and Protein Expressions in the Dorsal Root Ganglion in a Sciatic Nerve Crush Injury Rat Model. Ultrasound Med Biol. 2022 Dec;48(12):2502-2511.
Kawai H, Ito A, Wang T, Xu S, Kuroki H. Investigating the Optimal Initiation Time of Ultrasound Therapy for Peripheral Nerve Regeneration after Axonotmesis in Rats. Ultrasound Med Biol. 2022 Feb;46(2):304-312.
Laboratory
Professor:Hiroshi Kuroki, P.T., Ph.D. kuroki.hiroshi.6s@kyoto-u.ac.jp
Junior Associate Professor : Akira Ito, P.T., Ph.D. ito.akira.4m@kyoto-u.ac.jp
TEL:075 – 751 – 3963(Kuroki)  3918(Ito)
FAX:075 – 751 – 3963(Kuroki)
Homepage http://kuroki-lab.hs.med.kyoto-u.ac.jp/english.html
Homepage http://regenerative-rehabilitation.com/